'What Is Wrong With You?': Michelle Obama Slams Trump's School Lunch Changes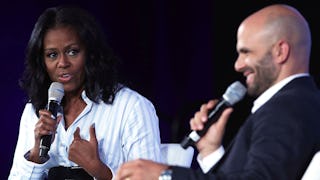 Image via Alex Wong/Getty Images
The former first lady isn't happy as healthy school lunches are threatened by Trump administration
Michelle Obama spent her eight years as first lady championing health initiatives geared toward the youth of America, and a large part of that effort was aimed at improving school lunches.
Now, several moves by the Trump administration threaten to undo much of the positive change she effected. And she's not happy about it.
Time shared a video of Obama speaking at an annual health conference in Washington.
Without naming names, the first lady took aim at recent moves from the Trump administration that she thinks threaten the health of America's youth.
There are two policy changes in particular that may be raising Obama's ire. Agriculture Secretary Sonny Perdue voiced plans to delay a requirement that would force schools to reduce the amount of sodium in lunches, and that he would continue offering waivers allowing schools to evade a regulation requiring more whole grains in the foods they serve.
Obama was indignant and incredulous, openly questioning the administration's motives, which almost seem designed to counteract her own efforts to reduce childhood obesity. A cause she rightly deems non-partisan. "You have to stop and think, 'Why don't you want our kids to have good food at school? What is wrong with you and why is that a partisan issue?'"
"It's our kids, right? This isn't political, everybody's got them. Republicans, democrats, independents, every religion has kids, we all have kids, every race, we all have kids."
During her speech, she urged the crowd to "take [her] out of the equation, like me, don't like me, but think about why someone is okay with your kids eating crap."
I'm no expert on the political machinations behind school lunches, but as a parent with kids and someone who's been watching this administration and the Republican Congress behind it, I have a guess as to the motivating factors behind these decisions.
Greed and spite.
Which is at least maybe a little bit better than the first lady's guess that the people doing this just "don't care" about your kids. But considering the healthcare proposal that was just passed and several of the other moves this administration has made over the first few months in office, it's hard to rule that out either.
Thankfully, both President Obama and his formidable wife aren't staying silent as their good work is slowly and systematically undone, for reasons that often defy logic.