Michelle Trachtenberg Says Joss Whedon Wasn't Allowed In A Room Alone With Her On 'Buffy'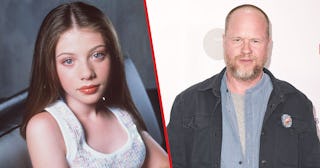 David Crotty/Getty
Another Buffy actress has come out with allegations about Joss Whedon: Michelle Trachtenberg, who was just 15 when she joined the show
Earlier this week, Charisma Carpenter accused Joss Whedon of abuse and hostility when they worked on Buffy the Vampire Slayer together. Now, Michelle Trachtenberg has come forward with her own allegations, and they might be even more horrifying.
Trachtenberg, who played Dawn Summers on the hit show, reposted the same statement that Sarah Michelle Gellar released after the accusations against Whedon were first made public.
"While I am proud to have my name associated with Buffy Summers, I don't want to be forever associated with the name Joss Whedon," the statement reads. "I am more focused on raising my family and surviving a pandemic currently, so I will not be making any further statements at this time. But I stand with all survivors of abuse and am proud of them for speaking out."
In the caption, Trachtenberg added her own statement: "Thank you @sarahmgellar for saying this. I am brave enough now as a 35 year old woman….To repost this. Because. This must. Be known. As a teenager. With his not appropriate behavior….very. Not. Appropriate. So now. People know. What Joss. Did."
She went on to add about her own experience with Whedon on the Buffy set, writing, "The last. Comment I will make on this. Was. There was a rule. Saying. He's not allowed in a room alone with Michelle again."
For anyone who doesn't remember, Trachtenberg was 15 years old when she joined the cast of Buffy. The fact that Whedon's behavior was so bad that there was a rule that he wasn't allowed in a room alone with a 15-year-old girl, but he was allowed to keep his job — is absolutely sickening.
In her statement, which she released on Wednesday, Carpenter detailed how Whedon "abused his power" on set. She detailed his "ongoing, passive-aggressive threats" to fire her, and said he regularly called her fat to and in front of her colleagues on set. She also said she was asked to work brutally long and physically demanding days while she was pregnant, only to be swiftly fired once she gave birth.
"He was mean and biting, disparaging about others openly, and often played favorites, pitting people against one another to compete and vie for his attention and approval," she shared.
"Back then I felt powerless and alone," she wrote. "With no other option, I swallowed the mistreatment and carried on."
"Buffy was a toxic environment and it starts at the top. [Carpenter] is speaking truth and I support her 100%. There was a lot of damage done during that time and many of us are still processing it twenty plus years later," said Amber Benson, who played Tara Maclay on Buffy .
These allegations come months after Ray Fisher also accused Whedon of abusive behavior on Buffy. Whedon has not publicly commented on any of the allegations.