The Get-Well Gift Michelle Williams Sent Busy Phillips Is The Most BFF Thing Ever
by Jerriann Sullivan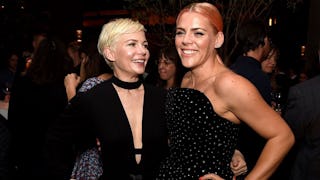 Image via Kevin Winter/Getty Images
Michelle Williams got best friend Busy Philipps the best get-well gift
Michelle Williams sent her best friend and fellow "Dawson's Creek" alum Busy Philipps the most hilarious get-well give ever: a life-size cardboard cutout of herself. Philipps is on the mend following sinus surgery, and since her best gal pal couldn't be there in person, she sent the next best thing.
Hello, can our BFFs get on this? Because what could possibly be better than a life-size cutoff of your person?
Philipps posted a photo of herself with the very realistic cardboard version of Williams on Instagram. "Michelle sent me a life-size cardboard cut out of herself to keep me company while I recover and it's so hilarious and also keeps scaring me when I come into the room, which is also kind of hilarious," Philipps wrote. It's the gift that keeps on giving. "Truly one of the best gifts I've ever gotten," she added.
https://www.instagram.com/p/BjDmniahf2m/?taken-by=busyphilipps
Philipps had the surgery earlier this week and said the scariest part was when the medical professionals made her give up her phone, which we totally understand. Our phone is our life, doc.
Like most moms, Philipps is used to a completely packed schedule, so it's no shock that she's having a hard time sitting around and resting, which, technically, is exactly what you're supposed to do after surgery.
We know when we're bored we could really use our bestie around to distract us. So it's kind of genius Williams sent her cardboard replacement even if it scares the shit out of her bestie. Ideally, the pair can FaceTime each other while Philipps finishes recovering.
The ladies have shared their epic friendship with the world plenty of times. Philipps, a popular Instagram presence, often posts pictures of the two and their adventures. Williams, who doesn't use social media, has expressed her love for her bestie in interviews. "I'm here with my best friend," she told PEOPLE in 2016 of Philipps. "I'm so in love with her. She's proof that the love of your life does not have to be a man! That's the love of my life right there."
It's unclear how long her doctors want Philipps to rest, but hopefully, she'll be back to traveling and attending fancy award shows with her best friend in no time.
This article was originally published on