BFFs Are Proof That Your Soulmate Doesn't Have To Be Your Husband
by Maria Guido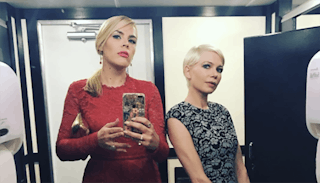 Michelle Williams and Busy Phillips remind us that BFFs can be the loves of our lives
When we think of a soulmate, often times we think of some super-romantic Lifetime movie storyline where random strangers lock eyes across a crowded room and are inseparable forever.
That's great for people who have experienced that, but guess what? You may be walking around with your soulmate and not even know it. Think about it. Who is the person who knows everything about you and endlessly has your back? It just may not be the person you're sleeping with.
Michelle Williams reminded us this week, that more times than not, our ride or die BFF is our soulmate. She was interviewed by PEOPLE about her latest film Manchester By The Sea. "I'm here with my best friend," she told the magazine. She was speaking of her friend for year, Busy Phillips. "I'm so in love with her," she says, "She's proof that the love of your life does not have to be a man! That's the love of my life right there."
The pair have been friends since they starred on Dawson's Creek together in the early 2000's.
"I love that we almost always stand on the same side of each other," Phillips writes on a throwback photo of her and Williams in 2001. "That's legit how we were dressed for a regular night out."
Seriously ladies, how many of these photos do you have with your best friends? Not to be cliché, but sometimes we take the most important people in our lives for granted. We could be living the most amazing love story of all time and not even recognize it because it's not romantic.
Here's where you know they truly love each other. Phillips shared a photo on Instagram that they both look rockin' in — not just her.
Reminder: tell your BFF you love them today. They will probably look at you weird, but that's okay. We can't let our soulmates eternally be under-appreciated.
This article was originally published on