Michelle Williams Opens Up About Getting Treatment For Depression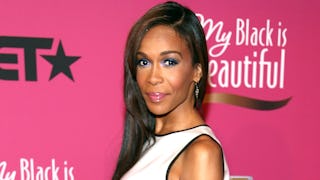 Image via Earl Gibson III/Getty Images
Michelle Williams checked into mental health treatment facility this summer
Michelle Williams recently opened up about her decision to check into a mental health treatment facility to work with healthcare professionals on her depression. Williams announced on Instagram this summer that she had decided to seek help, support, and guidance on her mental health and specifically her depression.
"For years I have dedicated myself to increasing awareness of mental health and empowering people to recognize when it's time to seek help, support and guidance from those that love and care for your wellbeing," she shared on Instagram. "I recently listened to the same advice I have given to thousands around the world and sought help from a great team of healthcare professionals."
While her post addressed her mental health, it didn't go into details about her struggles. But in a new interview with People, the famous singer opened up about what led to her decision to check into a mental health facility. "I thought I was over depression. I thought, 'I'm good!' I've got love; I'm working out," she told the magazine. "But I was so angry. The rage built up in me. I did not attempt suicide, but I was questioning [life]." Mental health experts agree that if you're feeling this way you should reach out to a mental health advocate.
Williams said despite getting engaged in March to her boyfriend, pastor Chad Johnson, she fell into a deep depression that impacted every part of her life. She broke off her engagement just a few weeks after he had proposed. Knowing then and now that he wanted to marry Williams, Johnson remained committed, and the couple worked on their relationship. "I would've understood [if he left]," she said. "He's been praying for a wife. He didn't pray for a depressed wife."
He remained by her said when a few months later she broke up with him again. At that point, the singer said she knew she needed to work with mental health professionals and drove to a hospital in L.A. A few days later she checked into a mental health treatment facility. It isn't the first time Williams has battled with depression. She struggled as a teen, and her worldwide fame with Destiny's Child only made it worse. She noticed her depression intensifying earlier this year, but was so busy preparing for her Coachella performance that she didn't prioritize herself.
"The entire year we were rehearsing every day for hours," she shared. "I was burying it, and before you knew it, I was looking up out of the pit like, 'Oh my God.'" Once the Coachella performance and grueling rehearsals were over, Williams knew she needed help. "I'd been there before in that darkness," she says. "I was like 'No, you better go [to the hospital].' By the time I got there, I was stable."
Her time at the facility helped Williams work through her depression and repair her relationship with Johnson. "People fall off the fitness wagon, people fall off the wellness wagon, but I can't fall off the [therapy] wagon," Williams explained. "I have to get healed to live this happy life."
If you or someone you know is having suicidal thoughts, you can call the National Suicide Prevention Lifeline 24 hours a day at 1-800-273-8255. If you or someone you know is struggling with depression, visit the Depression and Bipolar Support Alliance website to find help and support.