Michelle Williams Responds To Mark Wahlberg's 'Time's Up' Donation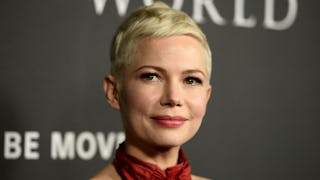 Image via Amanda Edwards/Getty
Michelle Williams wins all the awards today.
A very icky Hollywood salary discrepancy situation has been solved in the most graceful, proactive way possible. Mark Wahlberg, who was paid $1.5 million for film reshoots, while his co-star Michelle Williams was paid $1,000, donated his salary to the Time's Up Legal Defense Fund, following a week of bad press. And Michelle Williams couldn't have written a more gracious response in return.
"Today isn't about me," she said in a statement to USA TODAY. "My fellow actresses stood by me and stood up for me, my activist friends taught me to use my voice, and the most powerful men in charge, they listened and they acted. If we truly envision an equal world, it takes equal effort and sacrifice."
What a beautiful sentiment. What an important message. So, so much applause all around.
Williams and Wahlberg star in the new drama All the Money in the World, which originally featured Kevin Spacey. After sexual misconduct allegations against Spacey came to light, Christopher Plummer was tapped to replace the actor. That, of course, required reshoots.
Williams happily took a per diem of $80 a day, telling USA Today: "I said I'd be wherever they needed me, whenever they needed me. And they could have my salary, they could have my holiday, whatever they wanted. Because I appreciated so much that they were making this massive effort."
Wahlberg, meanwhile, received millions of dollars for returning for the ten day reshoot. Both actors are represented by William Morris Agency.
Obviously, when all of this information came to light, the public reaction was swift and furious. Because, seriously, WTF. Several celebrities took to Twitter to fight for Williams.
Wahlberg decided to donate his reshoot earnings to Time's Up, a legal defense fund that fights sexual harassment, assault, and abuse in the workplace. WME donated $500,000 to the fund, as well.
"Over the last few days my reshoot fee for All the Money in the World has become an important topic of conversation," Wahlberg said in the statement. "I 100% support the fight for fair pay and I'm donating the $1.5M to the Time's Up Legal Defense Fund in Michelle Williams' name."
In turn, Williams applauded Wahlberg's response, and also gave an important shout-out to Anthony Rapp, who was the first brave victim to come forward and share his story of assault at the hands of Spacey.
"Today is one of the most indelible days of my life because of Mark Wahlberg, WME and a community of women and men who share in this accomplishment," the actress said. "Anthony Rapp, for all the shoulders you stood on, now we stand on yours."