How My Daughter Will Be Hurt By Attempts To Reduce Health Care Coverage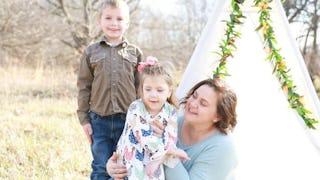 Lindsay Gauger
Let me be clear: Michigan lawmakers' attempts to impose work requirements for Medicaid coverage is dangerous, and threatens the health care that over 2 million Michiganders rely on—including my beautiful 3-year-old daughter, Gemma.
Just before Gemma was born, we learned her heart wasn't as perfect as we thought; it was missing one of the four chambers that makes up our heart. Our family does not have any history of this complication — and we didn't even know that the medical issue existed.
At just 2 days old, Gemma went in for her first open heart surgery and then for her second open heart surgery at 5 months old.
At 8 months old, Gemma suffered a severe cardiac arrest and stopped breathing in front of me as my husband held her in his hands. It took 25 minutes for Gemma's heart to start beating again, but the damage was already done to her heart and her brain. Every developmental gain our daughter had achieved, along with her vision, was stripped away. Gemma's heart was in severe heart failure for two months before a third open heart surgery.
That surgery proved it would not be enough to save our daughter's heart. We had two options: comfort care or list her for transplant and wait and hope for a donor heart to come her way. A short (but felt longer) 4 months later, a perfect match arrived and it has been a complete blessing.
And it has allowed our daughter to truly live.
Gemma's care comes with multiple medications throughout the day. Some medications are every six hours and others are every 12 hours. She requires assistance to sit and stand; she requires feedings five times a day through a feeding tube in addition to extra water to help support her poor kidney function.
She doesn't eat much orally to sustain her life and is a work in progress. Eating orally was a skill we traded in to save her life, a task that is quite easily forgotten if not used when you are so sick and so young.
This blessing of her heart transplant came with second blessing: Medicaid, which picks up where our insurance stops. For our family, Medicaid plays the largest role in covering Gemma's rehabilitation therapy.
Without Medicaid, Gemma would not be able to attend half of the regular therapy sessions she requires to learn how to walk, learn, and play again.
Medicaid has been a huge help in alleviating the medical debt we would drown if we only relied upon our her private insurance. I couldn't even tell you how many times we've taken Gemma to the emergency room for complications. The number of specialty follow ups because heart failure affected her kidneys, or when her stroke affected her vision. She has a feeding tube to assist in her dietary intake, a physical medicine and rehab doctor to help with the management of Gem's muscles because of the stroke — and of course cardiology to keep that beautiful donor heart safe. There are countless lab draws and heart catheterizations involving biopsies.
A simple cold can require a hospitalization that can last days to weeks. I'm surprised we don't have a frequent punch card at this point.
Medicaid has allowed our daughter to get care when she needs it. Medicaid has paid for a medication our private insurance flat out denied. Medicaid is keeping my daughter alive.
My Gemma loves to be dressed up, from her hair and nails to bows and bracelets, but she also likes to be in the dirt with all that glitz. She loves music, from David Bowie to The Greatest Showman soundtrack. At school, Gemma thrives in music class. She loves to cheer for her brother at his games. In our spare time, we love the outdoors and love being at the lake.
And she deserves the same shot at life as everyone else.
The work requirements for Medicaid recipients and their caretakers breaks my heart. As her mother, I have had to take time off to help my daughter through her extended recovery time and, sometimes, week-long hospitalizations. The politicians who are writing these work requirements are refusing to acknowledge the reality that Michigan's Medicaid families live with every day.
I'm not being hyperbolic. If the lawmakers who want to instate the requirements prevail, over 100,000 Michiganders could lose their insurance. The policies would be devastating for families across the state. And it would cost our state millions every year to maintain.
Instating these requirements would be a stain on Michigan's governance and a clear sign of our lawmakers' morality. We deserve more from the people who lead us. So in response, join me in speaking up and fighting back.