Man Killed After Cannon Explodes At Baby Shower
by Julie Scagell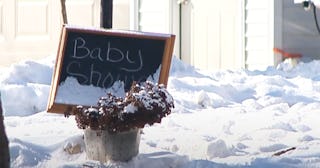 Eyewitness News WTVO WQRF/Youtube
The man was killed by shrapnel from an exploding cannon
It seems every few months we hear about a sex reveal party or baby celebration that goes horribly wrong and, unfortunately, one such event cost a man his life over the weekend in Michigan.
A man was killed Saturday evening after shrapnel struck him while standing about ten to 15 feet away from a cannon that exploded during a baby shower, ABC News reported. The homeowner, who lives in Genesee County, fired a small cannon-type device in the backyard to celebrate their baby's soon-to-be arrival when the accident happened, according to Michigan State Police.
"The homeowner had purchased the cannon at an auction prior to the event and had fired the cannon several times prior. The cannon is designed to create a big flash, a loud noise and create smoke," state police said in a statement. Investigators said the suspected cause of the explosion was gun powder loaded into the cannon which caused it to fracture.
The deceased, Evan Thomas Silva, 26, was struck with shrapnel from the cannon after broke down and blew up. He was rushed to Hurley Medical Center nearby where he later died from his injuries. Silva was one of five people outside where the cannon was fired and the only one hit by shrapnel, police said.
The explosion also damaged three parked vehicles and the garage where the baby shower was being held.
"The cannon did not contain any projectiles, but it is suspected that the gun powder loaded into the device caused the cannon to fracture," the police said.
Parties like this have cause massive damage and death in recent years as they've gained popularity. One such reveal started a 10,000 acre fire in California last year. In another, a soon-to-be grandma was killed in Iowa when the family tried using explosives to reveal their impending baby's sex.
People are understandably excited to celebrate their child's birth but using explosives or other unsafe devices that could cause harm seems like an excessive way to do so. Perhaps dialing it back, cutting a cake, opening some gifts, and calling it a day may be a better way to go.
In fact, the woman who started the trend now says she deeply regrets it because the party she threw to celebrate a baby girl is now living a gender fluid life. "Who cares what gender the baby is?" Jenna Karvunidis said. "I did at the time because we didn't live in 2019 and didn't know what we know now ― that assigning focus on gender at birth leaves out so much of their potential and talents that have nothing to do with what's between their legs."
She then revealed her daughter is the one who helped open her mind about the absurdity of celebrating someone's genitalia. "PLOT TWIST, the world's first gender-reveal party baby is a girl who wears suits!"
An investigation into the Michigan party is ongoing.
This article was originally published on