Michigan Shooting Suspect's Parents Charged With Involuntary Manslaughter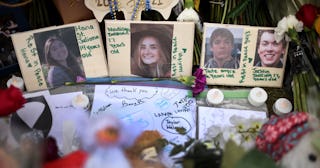 Scott Olson/Getty
Both parents were each charged with 4 counts of involuntary manslaughter
Michigan prosecutors have filed charges against the 15-year-old's suspect's parents in the Oxford High School shooting, USA Today reported.
Jennifer and James Crumbley, parents of Ethan Crumbley, were each charged with four counts of involuntary manslaughter after he allegedly shot and killed four students and wounded seven others at the Detroit school earlier this week. Crumbley surrendered to sheriff's deputies after the shooting and was taken into custody. Oakland County Prosecutor Karen McDonald called Crumbley's parents' actions, "far beyond negligence."
The 9mm Sig Sauer SP 2022 gun he used in the shooting was purchased legally by Crumbley's father last week during a Black Friday sale, according to investigators.
The suspect, a sophomore at the school, was charged Wednesday as an adult with two dozen crimes, including murder, terrorism, and attempted murder. Madisyn Baldwin, 17; Tate Myre, 16; Hana St. Juliana, 14; and Justin Shilling, 17, lost their lives in the senseless shooting.
"The parents were the only individuals in the position to know the access to weapons," McDonald said Thursday. The gun "seems to have been just freely available to that individual." McDonald said in another interview that more evidence in the case, yet be released, was "troubling" and "disturbing."
The Crumbleys were called into school the morning of the shooting to discuss some "behavior in the classroom their son exhibited," with school personnel, and that, "Unfortunately, he was allowed to go back to class," McDonald told WDIV-TV. The 15-year-old is believed to have had the weapon with him in his backpack during that meeting.
"All I can say at this point is those actions on mom and dad's behalf go far beyond negligence. We obviously are prosecuting the shooter to the fullest extent. … There are other individuals who should be held accountable."
"We have parents who sent their kids to school two days ago and they're never coming home," Oxford Community Schools Superintendent Tim Throne said, adding that the school staff immediately performed CPR and students followed instructions given in past school shooting trainings. "Because they carried out the game plan so well — this school is a wreck. It's a war zone," Throne said, saying that it will be weeks before students and staff will be able to return.
Meanwhile, over 100 schools in southeastern Michigan canceled classes yesterday and today due to threatening messages on social media following the Oxford shooting. "If you're making threats, we're going to find you," Sheriff Mike Bouchard said. "It is ridiculous you're inflaming the fears of parents, teachers in the community in the midst of a real tragedy."