Microsoft Is Allowing Their Employees To Work From Home Permanently
by Leah Groth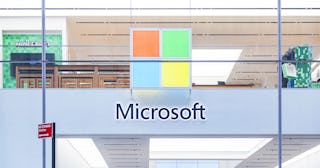 Nicolas Economou/NurPhoto/Getty
Microsoft employees will also have the opportunity to relocate
Pre-pandemic, the majority of Americans worked in an office or from home. However, due to the infectious nature of COVID-19, when the economy was forced to shut down, most companies opted to allow their employees to work from home. Now, seven months post pandemic, many of the larger corporations are rethinking their in-office policies altogether. On Friday, Microsoft announced that the majority of its employees would no longer have to come into work and would be allowed to work-from-home permanently, per The Verge, which received Microsoft's internal guidance.
The media and technology giant introduced their "hybrid workplace" guidance internally, explaining to their employees that even once their U.S. offices reopened, there would be more flexibility involved in terms of work plans.
Verge reports that Microsoft's internal guidance outlines the company's flexible working plans for the future. It will allow them to "work from home freely for less than 50 percent of their working week, or for managers to approve permanent remote work." Those employees who opt for the permanent remote work option will forfeit any assigned office space but will still be given "touchdown" space to utilize when on campus.
Not everyone will be able to take advantage of their work-from-home option, however, as some roles will require them to remain in the office. These include positions that require access to hardware labs, data centers, and in-person training.
Workers will also have the option of flexible working hours — no manager approval needed — and will also have an option of part-time work hours with their manager's approval.
Additionally, employees will have more leeway if they wish to relocate domestically, or even internationally, if their role allows it. According to the memo, compensation and benefits could change and vary depending on their geopay scale. However, the company will not pay relocation costs.
Another perk? Microsoft will cover home office expenses for permanent remote workers.
"The COVID-19 pandemic has challenged all of us to think, live, and work in new ways," says Kathleen Hogan, Microsoft's Chief People Officer, in a note to employees. "We will offer as much flexibility as possible to support individual workstyles, while balancing business needs, and ensuring we live our culture."
Other companies shifting away from the traditional work model include Twitter, Square, and Facebook, who recently announced they were shifting many of their jobs to fully remote. Ford and Target also revealed this week that their employees will be allowed to work remotely until at least July 2021.
Research has found that working from home is not only favored by many people, but it also promotes productivity. An Airtasker 2019 survey of more than 1,000 workers found that working from home results in an overall healthier lifestyle and boosts productivity.
This article was originally published on