This Inclusive Super Bowl Ad Featuring Kids With Special Needs Was The Best Part Of The Game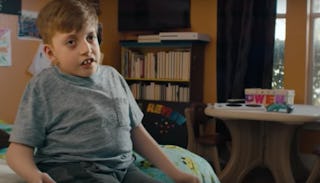 Image via YouTube
Microsoft's Super Bowl ad for its adaptive controller knocked it out of the park
Every year, the Super Bowl ads feature a few that manage to do more than entertain — they tug at the heartstrings and start a conversation. This year's clear winner in that category is Microsoft for their commercial featuring kids with limb differences using a brand-new controller that allows them to play too.
Grab some tissues because this is pretty freaking incredible.
The commercial focuses on the stories of young video game fans Owen, Grover, Ian, Taylor, Sean, and other kids who, like them, have limb differences that make using a regular video game controller a challenge. Microsoft's new adaptive controller allows kids with mobility differences to play the same way as all of their peers. Which is amazing.
"When everybody plays, we all win."
In the video's description, the company writes, "When technology empowers each of us, it empowers all of us. This Super Bowl, follow the inspirational story of passionate young gamers rising to the top of their game with a little help from their friends, family and the Xbox Adaptive Controller. The story illustrates Microsoft's commitment to building accessible technology that levels the playing field and creates opportunity for all of us."
If you got through the ad without sobbing, you're a stronger person than I am. My tweenage kiddos are both Fortnite pros and whether I like it or not, video games are a huge part of their lives and a way they bond and stay connected to their friends. The thought of kids like the ones profiled for this commercial not being able to keep up with their friends leaves me heartbroken. I never thought I'd be this in love with a large technology company, but OK Microsoft, you got me.
Grover's mom shares why this controller means so much to her son. "You never want your kid to feel like an outsider or an other," she says.
Owen's dad echoes that sentiment. "One of the biggest fears early on is how will Owen be viewed by the other kids?" He got choked up saying, "He's not different when he plays."
And cue a fresh flood of tears from us.
Taylor says, "It's a little challenging, but that's the whole point of gaming."
"It's his way of interacting with his friends when he can't otherwise do it," says Owen's dad.
Clearly, this is about so much more than just playing a game. Microsoft, we're applauding big time — and using up entire boxes of tissues in the process.