12 Mid-Century Furniture Finds That Won't Break The Bank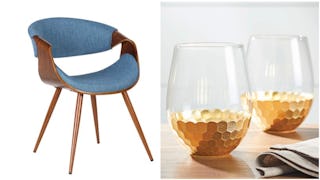 Image via Walmart
Prepare to want to redecorate your entire house immediately
If you've been having urges to spruce up your house lately, take a long, deep breath. Walmart is selling a whole bunch of mid-century furniture that's ridiculously gorgeous and is actually affordable. Just take all of our money immediately.
Hellooo so much sleekness. This credenza comes complete with wooden legs, a sliding door, two storage drawers, and a fixed inner shelf. It also has cut outs in the back so your power chords won't turn into a tangled mess.
Will you feel like a fancy, cool queen with these stemless wine glasses? Yes, yes you will. They come with a honeycomb design that will make your nights slurping down wine feel a whole lot more festive.
Your dining room just got chic as hell with these mid-century chairs. They come with a walnut wood finish and you can snag a set in blue, charcoal, or green. Eating leftovers just became a whole lot more swanky.
Speaking of swanky, you will 100% want to serve your drinks from this gold two-tier serving cart. It includes three built-in wine bottle holders and roomy storage space. Wine and cheese every single night? Yes please.
Get comfy in this set of dining chairs, made from solid rubberwood and bentwood. There's a walnut finish and it looks oh so sleek.
An entertainment center + a fireplace = I have died and gone to heaven. This dream combo will accommodate most 60-inch flatscreen TVs and has a 36-inch fireplace with flames. Winter just got SO much more fun.
Or, if you want to keep your entertainment center simple, go with this two-tone TV stand which comes complete with cabinet doors for plenty of DVD storage.
Add a new twist to your living room with this bright, colorful area rug. It's stain resistant, plush, and will very likely make you feel all kinds of sophisticated.
And, I mean, if your living room floor is going to get special treatment, your sofa might as well get some love too. This throw pillow is soft, comfy, and decorated in chenille swirls.
The holidays are coming up which means it's time to deck your house out in all the bright lights. These gold speckled candle holders will bring plenty of sparkly cheer to the dinner table.
Add some additional chicness to your house with this mid-century upholstered bench. Warning: visitors might be very, very jealous of all your cool style.
Will you feel like Don Draper with this drink cart? Yup, yup you will.
Enjoy your wildly sophisticated new house, you decorating guru you.
We are a participant in the Walmart.com Affiliate Program and may earn fees by linking to Walmart.com and affiliated sites.
This article was originally published on