Teachers Spend Summer Decorating School Bathrooms With Positive Messages
by Christina Marfice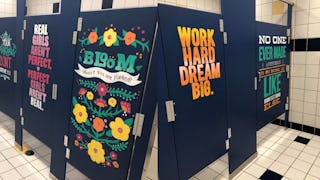 Images via Warren Middle School / Facebook
This bathroom inspiration project is what every middle school girl needs in her day-to-day life
It's a tough world out there for middle school girls. That's the time in their lives that they're really starting to turn into young women. And that means it's the perfect time for body image problems to be born. But some schools are finding creative ways to combat that, like Warren Middle School in Forney, Texas, where teachers are spending their summer break working on a bathroom inspiration project to remind girls how beautiful and strong they all are.
The school posted photos to its Facebook page, and they've gone viral for how uplifting the messages are. In the photos, volunteer teachers stencil messages onto the bathroom stall doors, and then fill them in with colorful paint.
Once finished, the stall doors contained uplifting messages that teen girls need to hear: "Bloom where you're planted," "Real girls aren't perfect, perfect girls aren't real," "Your mistakes don't define you," and "You are amazing, You are brave, You are strong."
A few other stalls read, "Work hard, dream big," and "No one ever made a difference by being like everyone else.
It not only adds a cheerful pop of color to the otherwise drab school bathroom, but it's all made of messages designed to empower and inspire middle school girls.
But that's not all the teachers did for their bathroom inspiration project. In addition to the messages on the stall doors, they put more inspiration in banners above the mirrors, a place where teen girls definitely need to see it.
Above the mirrors, it now reads, "You may not have Wonder Woman's superpowers, but you can have a super-powered impact on the world," and "Mirror, mirror, on the wall, there's a leader in us all."
This isn't the first project of this nature to go viral. A North Carolina middle school hired a local artist to paint inspiring messages in its girls' restrooms last year. And a mom attending a Girl Scout event at a California high school was moved to tears when she saw the bathrooms plastered with affirming messages.
Warren Middle School is encouraging other schools to implement projects like this one, and hosted a Facebook Live last week to answer questions from teachers and administrators at other schools who want to follow their lead.
This is such an important project with the capacity to impact so many young girls, we hope more schools get on board.