Students Adorably Freak Out After Learning They're Seeing 'Black Panther'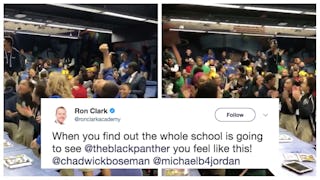 Image via Twitter/Ron Clark
The kids at Ron Clark Academy will have you whooping with joy
Kids. Love. Superheroes. The kids at Ron Clark Middle School in Atlanta Georgia really love superheroes — specifically those in Black Panther, the highly-anticipated new Marvel film.
So when the students found out they were going to all see the film together, the reaction could best be summed up in two words: pure joy.
The entire cafeteria erupted in cheers and dancing — set to the soundtrack from Black Panther, of course. Ron Clark himself shared a video of the amazing scene on Twitter, which quickly went viral because who doesn't love watching dozens of extremely happy kids get good news?
Superheroes are for everyone. Kids, adults, all genders and races. And with hits like the latest Wonder Woman remake and Black Panther, onscreen representation in the superhero realm is finally expanding. Octavia Spencer, realizing the importance of kids seeing heroes that look like them, even rented out an entire theater so kids in a Mississippi town can see Black Panther.
In addition to seeing the movie, the students at Ron Clark Academy will incorporate the comic books into their curriculum to learn about imperial history and African Art, according to ABC News.
Wade King, the director of curriculum at Ron Clark Academy, had the honor of telling his students they were all going to see the movie. "They flipped out," he told ABC. "It was like an explosion of just pure joy."
People on Twitter were happy to board the joy train at Ron Clark Academy.
https://twitter.com/jetpack/status/959523444823068677
"Everyone was super excited. It was just very emotional," King told ABC. "It was awesome just seeing them super excited about it."