'The Mighty Ducks: Game Changers' Is Full Of Lovable Characters — And '90s Nostalgia
by Colleen Dilthey Thomas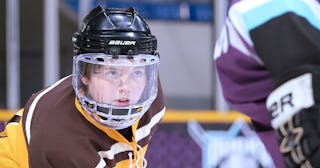 Disney+
When my son invited me to binge the new Disney+ series, The Mighty Ducks: Game Changers, I plopped down on that couch as fast as I could. First, I was asked by a 10-year-old to watch TV with him and second, who doesn't love the Ducks? I was down for a bit of nostalgia, and the new Ducks hits the spot.
But don't expect to see the familiar bright green and yellow jerseys with happy-go-lucky players capturing your heart by overcoming a tough home life and nailing that final shot. Today's Ducks are dressed in dark colors, reminiscent of their old rivals, The Hawks. They are an elite, cutthroat hockey club that isn't interested in the olden days. It's all about winning, not inspiring.
Evan Morrow (Brady Noon) is cut from the Ducks preseason and left with nowhere to play. His mom Alex (Lauren Graham) takes it upon herself to start a new team for her son and a group of misfits, called the Don't Bothers. The name stems from a confrontation Alex has with the Ducks coach and ultimately serves as the team's inspiration.
The new incarnation of hockey wannabes are reminiscent of their Ducks predecessors. There is the daredevil, the gamer, the fantasy role player, the cool girl and the guy who can't skate. And then there is delightful Nick (Maxwell Simkins). He is a bright spot in the series, funny and sweet. Nick's not the best athlete, but he is the team's heart and soul.
There is no one else to coach these lovable losers, so Alex hits the ice. You can't help but love her from the very beginning. You aren't told, but you get the vibe that she has come from a place of struggle, not privilege. She sees the good in these players and wants them to succeed. For her, it isn't about winning — it is about bringing out the very best in each player. But in order to do that, she needs to learn the game. And who better to help her than Coach Gordon Bombay (Emilio Estevez)?
Nearly 30 years after Bombay won our hearts with the "Flying V" he's back as the owner of the Ice Palace, a Minnesota rink that has seen better days. But honestly, so has Coach. He was a pro and a coach and a hockey legend, and now he's just a guy driving a rickety zamboni in a run-down rink. He's no longer interested in hockey and from the very beginning makes that exceptionally clear. As much as he wants to stay away, you can see that glimmer in his eye and his love of the game.
When you look at Bombay, you'll long for him to soften up and return to the charming cheerleader who captured us so long ago. His life has taken an unexpected turn, but it's because he was being a good guy. And deep down he is still that good guy. Bombay may remind you of yourself at a low spot in life when you just needed the right person to come along and lift you up.
And man, do we love Graham as Alex. She is just so excellent at playing a mom. Alex is raising her son in the world of ruthless youth sports that a lot of parents can relate to. Somehow in our culture there has been a paradigm shift and it is no longer about having an extracurricular activity for your kids; it's about being a junior professional. If you have ever been a parent of the kid who wants to have fun but isn't ever going to be an all-star, then you will feel Graham's character in your bones.
As a mom, I can understand Alex's struggle. I have seen the heartache in a child's eyes when things don't go the way that they planned. Balancing work and kids and a social life all while trying to keep a positive attitude is a daunting task. But it is real. And so many parents are doing this day after day. Alex is the mom that you want to be to your kids.
You are also given insight into the parenting culture of youth sports. There are the snacks and the schedules and the emphasis on having to be the best all the time. It may make you take pause and ask yourself, "Is this really worth it?" For some, yes, it is. There are child athletes who will go on to be pros, but they are few and so very far between. Most of these kids are just out there making memories, and Alex Morrow makes you realize that is what it's all about anyway.
Watching this show made me recognize that I often put undue pressure on my kids. I want them to be the best. But sometimes, they aren't, and other times, they don't even want to be. And all of that really is okay. Parents need to take a step back sometimes and remember what it is like to be a kid. You have so few years of little responsibility and to just have fun; we need to let kids do that.
I feel like the Ducks is a must-watch for parents and kids. It is funny and it is refreshing and it has great characters. The cast is diverse, as are their backstories, including a family with two moms and a single dad raising a son after his wife left. The kids are endearing and sweet, but this time, I really find myself rooting for the adults.
If you're a 30- or 40-something like me, this is a satisfying dose of Gordon Bombay that you didn't know you needed. And your kids will be able to identify with the characters' struggles while enjoying their silly antics. If your kids don't invite you first, grab some popcorn and sit them down for an episode. I can almost guarantee you'll all be down for a quick binge.
"The Mighty Ducks: Game Changers" is currently streaming on Disney+ with new episodes released on Fridays.
This article was originally published on