Kids Are Still Suffering At The Border
by Wendy Wisner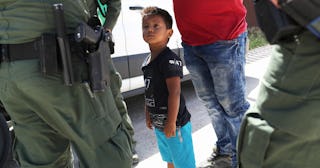 John Moore/Getty
It's been about a year now since we all started hearing that the Trump administration had been separating children from their parents at the Mexican border. I still remember the images that were circulating then – of young children crying for their parents, children packed together like animals in cages, the cold, tinfoil blanket they were made to sleep with, and the traumatized faces of their crying mothers, desperate to have their babies back in their arms.
So many of us felt horrified, infuriated, and absolutely gutted about the fact that these sorts of things were going on in our country, and under our watch. How the FUCK did this happen, we wondered, and how could we make it stop?
The Trump administration, under pressure, soon announced that they would be rolling back this atrocious policy. Maybe it was at that point that many of us started to turn away from this issue. Or maybe it was because it was just too damn sad and horrible to consider. Listen, I get it. We all have lives we are trying to lead, our own kids to tend to. We can't walk around shouldering the suffering of everyone around us.
But we can't forget about those kids or their parents. We can't numb ourselves or turn away. Because it's still happening. And it's getting worse.
Despite what the Trump administration promised, kids are still being separated from their parents at the border: more than 200 more, as of March of this year, according to The New York Times. In the last year, at least 7 children have died in U.S. custody, often because they were denied medicine or medical attention. Just this week, the Trump tweeted plans to make mass arrests of undocumented individuals and families.
And even when they aren't separated from their parent(s), they are being housed in detention facilities with deplorable and deteriorating conditions. Photos released from a detention center in El Paso shows people packed tightly together with little room to breathe, standing on toilets for extra space. Other reports have unearthed alleged abuse, expired food, and unsanitary conditions. Detention centers are commonly referred to as el congelador (the freezer) or la hielera (the ice box) because they are so cold.
In early June, it came to light that in 2018, 37 migrant children, all between the ages of 5 and 12, had been held in vans for 39 hours. In Texas, in July. And if that wasn't unconscionable enough, these children were waiting because they'd been promised to be reunited with their parents, which of course did not happen.
Can you imagine the trauma these young children had to endure? It hurts my heart so deeply to consider this.
As if that wasn't enough, it was recently revealed that many of the services that are being offered to children in detention centers – meager as they have been – will soon be taken away, including language instruction, sports, and access to legal aid.
The Health and Human Services Department released a statement saying that the Office of Refugee Resettlement had "instructed grantees to begin scaling back or discontinuing awards for U.A.C. (unaccompanied minor) activities that are not directly necessary for the protection of life and safety, including education services, legal services, and recreation."
Where does it leave these kids – these 13,200 children, housed in 100 facilities throughout the country? These babies, who are likely lonely, confused, in an unfamiliar setting, and definitely traumatized — both by circumstances that caused them to flee their country in the first place and then again at the hands of our government. They should at least get a few minutes outside each day to kick a ball around and get some sunshine, damn it.
"To those of us whose job it is to promote the health and safety of children, this is a shocking directive," Amy Cohen, a psychiatrist who regularly stays in touch with children at border shelters, tells The New York Times. "It violates every tenet of basic child welfare practice and will further harm the medical and psychological health of children fleeing extraordinarily dangerous circumstances in their home countries."
Are you outraged yet? Are you wondering how this is STILL FUCKING HAPPENING? I sure am. And I'm feeling abysmally guilt-ridden that I haven't done enough in the past year to help.
It's easy to feel powerless in situations like this, to feel like the problem is so big and completely out of your hands. Sure, one voice of protest, or one donation isn't going to change everything. But if we band together, we can make a difference. And I know we don't all have overflowing bank accounts, or an abundance of time, but every little bit counts.
I think of it like this: If these were my children, if I were these parents, I wouldn't judge you for how many dollars you were able to donate, how many phone calls you were willing to make. But I would notice whether you cared at all, or whether you turned a blind eye.
I've compiled a short list of possible action items to get us started. Even just doing one small thing makes a different.
1. Donate to RAICES, Families Together Fund
Raices is one of the largest and most well-known organizations providing legal aid and comprehensive case management services to help reunite families.
2. Donate to Immigrant Families Together
Immigrant Families Together is an organization that pays for bonds, legal services, and other assistance for families trying to reunite.
3. Donate to the Immigrant Shelter at St Ignatius El Paso
Here is a list from Amazon of needed supplies for the children.
4. Support Where Are The Children?
Click here to learn more about this organization, which recently staged a protest on The National Mall on International Children's Day, using pajamas on a clothesline to represent children separated from their parents.
5. Volunteer With, Or Donate To, Texas Civil Rights Project
The Texas Civil Rights Project is a Texas-based organization fighting for justice. One of their main projects is child/parent reunification at the border. They are in need of donations, volunteers, and Spanish speakers for translation.
6. Support Alternatives To Detention, Including Sponsorship Of Asylum-Seeking Families
Showing Up For Social Justice is an organization that facilitates sponsorship of migrant individuals and families, so they can live safely and comfortably as they wait for asylum. The Santa Fe Dreamers Project facilitates sponsorship of trans asylum seekers.
If you would like to know more about sponsoring a migrant family, the Immigrant Connect has some great info, here.
Most of all, please don't forget about these kids. They need us to keep talking. They need our fucking outrage. So, please, stay as riled up as you were when you learned about this issue a year ago. Because it hasn't gone away, not one bit. And these babies still need our help.
This article was originally published on