Detained Menstruating Migrant Girls Given One Sanitary Pad A Day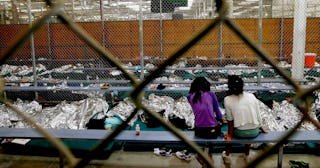 Ross D. Franklin-Pool/Getty
Girls in detention centers are visibly bleeding through their clothing
As we continue to hear heartbreaking stories of the way migrant children are being treated, a new lawsuit is bringing more details to light specifically for migrant girls who, when on their periods, are being forced to bleed through their clothing because they aren't being provided sanitary products.
Migrant girls being held in border detention centers are visibly bleeding through their clothing while menstruating. The details of their care has been documented in a 26-page report, after a state-run investigation conducted by Investigations Manager at Washington State Office of the Attorney General, Alma Poletti, turned into a lawsuit, HuffPost reported.
The suit, filed by 19 states, challenges the Department of Homeland Security's latest regulations around detaining migrant children. In addition to children being held for days, sometimes weeks longer than they legally should be in these centers, kids are living in overpopulated areas and infants are being cared for by kids as young as eight or nine. They are being denied medical care, and even access to basic care items like toothbrushes and soap.
One part of the report claims that food was being tossed on the floor for children to grab, there there was a lack of privacy when using the restroom, and toilet paper only being replenished once per day. Among those kids interviewed, a lack of menstrual products was also a major concern for teens girls who reported that they were only given one sanitary pad a day while on their periods. They also said they were made to sit in underwear and pants stained in blood.
"After a number of days, she summoned her courage and asked for a shower, and was given one," the report claimed. "She recalls there was another girl at the facility who was also on her period. They were each given one sanitary pad per day. Although the guards knew they had their periods, they were not offered showers or a change of clothes, even when the other girl visibly bled through her pants."
The lawsuit argues that this handling of children in detention centers goes against the Flores settlement, a 1997 agreement which limits the amount of time the government can detain immigrant children and provides basic guidelines for safe and sanitary conditions in these centers.
California Governor, Gavin Newsom (D), the main proponent of the lawsuit, again called out President Donald Trump for his inhumane treatment of immigrants and policies on family separation. "Yet again, President Trump is disregarding basic human rights and using helpless immigrant children as political pawns to further his ideological agenda," Newsom said in a Monday statement. "California will emphatically assert itself to protect the welfare and safety of all children, regardless of where they come from or the color of their skin."
This article was originally published on