The Trump Administration Isn't Providing Sanitary Products To Migrant Women
by Christina Marfice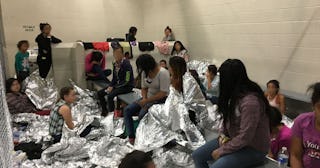 Office of Inspector General/Department of Homeland Security via Getty Images
This is just the latest way the Trump Administration is creating horrific conditions at migrant detention centers
Women in migrant detention centers don't have the sanitary products they need, and the Trump Administration refuses to provide them. Lawmakers are now working together to demand that the administration provide properly sanitary conditions for women and girls who are "visibly" bleeding through their pants when they have their periods in the centers.
Democratic Reps. Raul Ruiz, Linda Sánchez and Joaquin Castro, members of the Congressional Hispanic Congress, sent a letter to the Department of Homeland Security on Thursday demanding that migrant detention centers start being stocked with enough menstrual products for all the women and girls who live in those centers.
"It is the federal government's responsibility to uphold the human dignity of all women throughout the detention process," the letter reads. "All women in detention should have readily available personal hygiene products, such as soap and feminine hygiene products, as well as the ability to properly handle and dispose of them. Each woman should have access to a hand washing station and the opportunity to bathe every day in a private and secure manner."
The letter is in response to a 26-page investigation that detailed horrifying sanitary conditions for menstruating women and girls in migrant detention centers. It told stories of women and girls who were forced to go weeks without showers, who were forced to continue wearing soiled underwear and pants after bleeding through them, and who were issued just a single pad per day while on their periods. Any human outside of the Trump administration can see that this is horrifying and inhumane, and that's what these lawmakers are trying to get across, both to the administration and to the public.
"It's intentionally degrading and cruel to treat menstruating women that way," Ruiz said. "It's a lack of human decency and a lack of humanity that must be corrected."
This is just the latest case of a report detailing horrific conditions at migrant detention camps, where it took a judge's ruling to get the Trump administration to start providing children with soap, toothbrushes, and places to sleep. Child development experts have likened the camps to torture centers and concentration camps, and have warned that the effects on the people who are housed under such poor living conditions, especially children, can be catastrophic for years to come. Yet the Trump Administration continues to funnel asylum seekers into migrant camps while it rolls out policy after policy to keep them from coming here in the first place. America was once a place where people could come to be protected and to seek safety from violence and oppression. Now the violence and oppression are here, at the hands of our own government.