Hundreds Of Migrant Families Are Being Held Under A Bridge In El Paso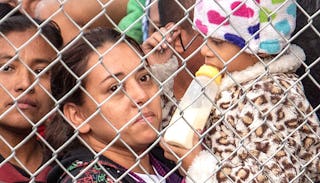 Sergio Flores for The Washington Post via Getty Images
Until they can be processed, hundreds of migrants are being forced to live under a bridge in El Paso
Migrant families are being forced to stay in a makeshift encampment under a bridge in El Paso, Texas amid another humanitarian crisis at the border. The head of Customs and Border Protection (CBP) says there are hundreds of migrants now spending hours out in the open behind a chain-link fence and razor wire.
Thousands of people cross the Paso del Norte bridge between El Paso, Texas, and Ciudad Juárez, Mexico every day. CBP cannot process all of the migrants being held under the bridge as quickly or as efficiently as they normally would. In the meantime, the families are being given food, water, and medical evaluations at a tent under the bridge as they wait to be taken elsewhere for processing.
"Due to the large volume of apprehensions within the El Paso station's Area of Responsibility, the agency has undertaken additional measures to facilitate processing," said CBP in a statement. "As [migrants] arrive at the processing facility, they are placed at the 'tent' to await their turn to be processed. This tent serves only as a transitional shelter and is not a temporary housing facility."
CBP says on Monday and Tuesday of this week, over 12,000 migrants were currently in custody. As of Wednesday, that number was at 13,400. "A high number for us is 4,000," the statement reads. "A crisis level is 6,000. 13,000 is unprecedented." 750 officers will be reassigned to the southern border.
While they await processing, the families are placed in the "tent" under the bridge to await their turn. The tent is not supposed to be a temporary housing facility, per CBP, but a "transitional shelter." The thing about that, though, is that these migrant families have had to live outdoors in less than desirable conditions for multiple days in a row. That's simply unacceptable, regardless of how many there are. Especially for the more vulnerable population — senior citizens, young children, and infants.
A CBP spokesman, Ramiro Cordero, tells The Guardian that the organization is "getting better at processing" migrants. "However, the numbers continue growing and growing. We don't have anywhere else to hold them."
Rep. Bennie Thompson, a Mississippi Democrat and the chairman of the House Committee on Homeland Security, blames CBP for the "horrid conditions" migrants are forced to endure under the bridge.
"The situation at the southern border is further proof President Trump's border security and immigration policies are a complete failure, and his Administration deserves much of the blame for making this humanitarian crisis worse," he said, per BuzzFeed News. "The Department of Homeland Security continues to block families trying to present themselves at our ports of entry, pushing them to areas between the ports of entry and adding additional stress to our border and immigration system. There is no legitimate reason for migrants to be held in horrid conditions or encamped under the bridge."
While these numbers are vast and the conditions are deplorable, this is not necessarily an "unprecedented crisis," according to Splinter. The number of border crossings currently is still dwarfed by the number seen at the peak in the '90s and early '00s — in 2000 alone, arrests at the border reached 1.6 million.
CBP states they expect to detain 95,000 individuals in March, up from 76,000 in February.
This article was originally published on