'Hamilton' Star Miguel Cervantes' 3-Year-Old Daughter Died From A Severe Form Of Epilepsy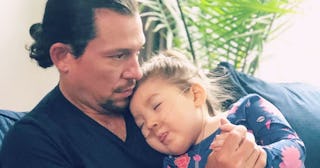 Kelly Cervantes/Instagram
Miguel Cervantes and his wife have worked to raise funding and awareness since their daughter was diagnosed with epilepsy
After years of fighting a rare, severe form of epilepsy, Adelaide Cervantes, the 3-year-old daughter of Hamilton star Miguel Cervantes and his wife, Kelly, has died. Kelly Cervantes shared the news on Twitter, where she wrote that her family was left with "hearts shattered."
"The machines are off. Her bed is empty. The quiet is deafening," she wrote. "Adelaide left us early Saturday. She went peacefully in my arms, surrounded by love. Finally, she is free from pain + seizures but leaves our hearts shattered. We love you so much Adelaideybug and forever after."
Adelaide was diagnosed at just 7 months old, and since then, her family has chronicled her journey and treatment on Kelly's blog. The Cervantes family has also become outspoken supporters of epilepsy research, raising money and awareness for the nonprofit Citizens United for Research in Epilepsy. They are particularly active in the fight against epilepsy in Chicago, where Miguel has been starring as Alexander Hamilton in the city's production of the hit musical Hamilton since it opened in 2016.
Kelly Cervantes wrote on her blog that Adelaide suffered from a rare, "neurodegenerative" form of epilepsy that was causing her brain to slowly deteriorate. On her blog, she wrote that Adelaide had been slowly losing her ability to do things like suck her thumb over the past few months, and last month, the family made the difficult decision to enter hospice care, focusing on keeping Adelaide comfortable over finding treatments or a cure.
"The word that has haunted us from our earliest days on this journey, our worst nightmare, has come true," she wrote in an emotional blog post about beginning hospice care for Adelaide. "We've watched as she's lost the ability to suck her thumb, as she's drifted more distantly from us month after month, and now this."
Since news of Adelaide's passing, Miguel Cervantes has taken to Twitter to thank fans for the outpouring of support his family has received.
In an emotional blog post, Kelly Cervantes wrote directly to Adelaide as she promised her to continue fighting for others with similar conditions.
"I promise you, my angel baby, that your efforts, your fight, your life will not have been in vain," she wrote. "We will take the eternal lessons you taught us and continue to plant your seeds in the hearts of anyone who will listen."
This article was originally published on