Ohio Governor Says Teaching In-Person Is A 'Condition' For Teachers To Get Vaccine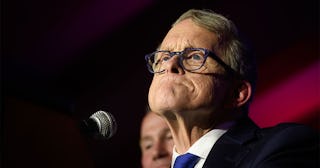 Justin Merriman/Getty
Ohio Gov. Mike DeWine stated that teachers in Ohio will be vaccinated as of Feb. 1, but only if they agree to his conditions
With COVID-19 vaccinations being administered for healthcare professionals and nursing home residents nationwide, it was only a matter of time before educators were also prioritized in receiving the vaccine. Ohio teachers are eligible to receive the vaccine as of Feb. 1, according to a new statement by Gov. Mike DeWine. But only if they agree, in writing, to teach in-person beginning March 1.
This means that not only is the vaccine prioritization conditional for Ohio teachers, but Gov. DeWine isn't even allowing enough time in between vaccine doses for it to take full effect.
Vaccines for more than 138,000 adult employees will be offered to school districts willing to resume in-person classes, with a goal of getting students back in classes by March 1. According to DeWine, students are struggling with at-home learning. Despite withholding a life-saving vaccine from teachers in order to push his political agenda of enforcing in-person learning, DeWine said parents can continue to opt for remote learning for their kids.
Approximately 71% of Ohio pupils are attending classes remotely or in a hybrid model of a combination of in-person and online learning.
"This week, we are sending forms to be signed by superintendents – we are asking them to agree to go back to full in-person or hybrid learning by March 1," the governor said. "That is a condition of getting the vaccine."
He also said the state will be asking schools to send state officials the number of staff they believe will choose to take the vaccination and indicate if they are already "working with partners" for vaccine administration.
Many Ohioans, parents and educators included, called the governor out for using his political power to withhold the vaccine from a vulnerable population. They accused DeWine of being manipulative and unethical with the vaccine distribution and pointed out that the vaccine needs time to reach full efficacy.
Forcing school personnel to work in-person daily before they can get vaccinated, and before there's even a vaccine available for children, has Ohio up in arms — and rightly so.
https://twitter.com/jetpack/status/1347301773480964099
Though DeWine publicly condemned the terrorism at the Capitol earlier this week, he's been a longtime ally of Donald Trump for the entirety of his presidency. He said he's not in favor of removing Trump from office despite the fact that his inciteful behavior is treasonous, saying "we're down to 13 days until the new president takes office" and that invoking the 25th Amendment would "lessen the faith in our system."
And now DeWine must suffer the loss of faith of his own constituents thanks to his failed vaccine rollout.