Mike Pence Led Failed Coronavirus Response But Is Still Among First Vaccinated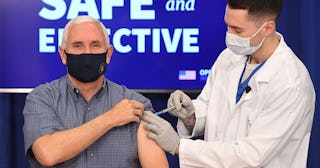 SAUL LOEB/AFP/Getty
Mike Pence received his COVID-19 vaccine on live TV, making him one of the first Americans who isn't a healthcare worker to get one
Mike Pence has been in charge of the coronavirus task force in the U.S., whose late and ineffectual response has caused the U.S. to have one of the highest rates of infections and deaths in the world. More than 310,000 Americans have died from COVID-19, and around 3,000 more are currently dying every day. And this morning, Mike Pence became one of the first Americans to receive Pfizer's coronavirus vaccine.
Pence and his wife took the shot on live TV, so at least there's a chance that something good might come of this: The more people see public figures getting vaccinated (particularly ones they support), the better the chance that vaccine denial will be curbed and enough people will get the coronavirus shot to end the pandemic.
"I didn't feel a thing. Well done," Pence said after receiving the shot in his left arm. "Karen and I are more than happy to step forward before this week was up, to take the safe and effective coronavirus vaccine that we have secured and produced for the American people. It's truly an inspiring day."
Yep, he's still trying to take credit for the vaccine. It's worth noting that Pfizer was not a part of Operation Warp Speed, the government plan to funnel money to pharmaceutical companies to help them quickly develop a vaccine to combat the pandemic. Pfizer has been clear about the fact that it developed its vaccine with no government funding. But anyway.
Pence's coronavirus task force has failed at nearly every turn. It downplayed the seriousness of the virus until it was spreading uncontained in the U.S. When states were struggling to find safety and medical equipment to safe lives and protect healthcare workers during the first wave, it pretty much told them that they were on their own. It's refused to issue mask mandates that could help slow the virus's spread and save countless lives.
He also didn't quarantine in October when five of his aides tested positive for the virus. Cool.
Needless to say, people on Twitter who have been watching Pence cavalierly play politics with people's lives for almost a year (and enable Trump's horrific handling of the virus) were less than pleased that he was among the first in line for a coveted vaccine.
Thankfully, another vaccine, developed by Moderna, is expected to be approved by the FDA for emergency use as early as this week. Its development of that vaccine was partly funded by Dolly Parton, who has done more to halt this pandemic than Pence has. That will give more healthcare providers and essential workers — people on the actual frontlines, doing work that saves lives — access to the vaccine.