Mike Pence Attends 'Hamilton' Performance, Cast Delivers Him A Message
by Valerie Williams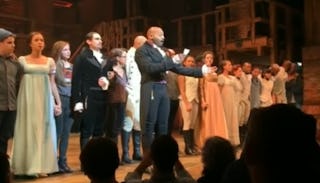 Image via YouTube
Video of the cast of "Hamilton" addressing Vice President-elect Mike Pence goes viral
In the wake of an election result that's left so many Americans angry and scared, Vice President-elect Mike Pence attended a performance of the incredibly popular Broadway musical "Hamilton." The politician was booed as he made his way to his seat, but the bigger story to come out of the night was the message the cast delivered to our nation's new second-in-command.
We can only hope he was listening.
"Hamilton" is the Tony, Grammy, Pulitzer and MacArthur genius grant-winning musical about our nation's Founding Fathers featuring a diverse cast of minorities, women and members of the LGBTQ community. That's why the cast and creators of the show felt a need to express their feelings to VP-elect Pence when they found out he would be in attendance for last night's showing. Video footage of the message, delivered by Brandon Victor Dixon, who plays the role of former vice president Aaron Burr, has since gone beyond viral.
Dixon called out to Pence as he was about to exit the theater saying, "I see you walking out but I hope you will hear us. Just a few more moments. Nothing to boo here, we're all sharing a story of love. We have a message for you, sir. And we hope that you will hear us out." Dixon encouraged the audience to get out their phones and "tweet and post" because "this message needs to be spread far and wide."
Pence had already left his seat but remained in the hallway outside the orchestra section listening until Dixon finished.
The actor says, "We welcome you, and we truly thank you for joining us here at Hamilton: An American Musical — we really do. We, sir, we are the diverse America who are alarmed and anxious that your new administration will not protect us, our planet, our children, our parents, or defend us and uphold our inalienable rights, sir. But we truly hope this show has inspired you to uphold our American values, and work on behalf of all of us. All of us."
"We truly thank you for sharing this show, this wonderful American story told by a diverse group of men and women of different colors, creeds, and orientations."
And that message is felt by many of us, afraid of what this new administration means for the citizens that make up the numerous marginalized groups the Trump-Pence campaign has threatened through their hateful rhetoric and appalling policy ideas.
Pence is known for his repulsive stances against the LGBTQ community, having signed a religious freedom act that would allow discrimination against them. Thankfully, he was forced to roll back that idea, but Pence has also called for the diversion of federal funds toward "conversion" therapy to "provide assistance to those seeking to change their sexual behavior."
In other words, he's advocated for the use of what the Human Rights Campaign calls "a range of dangerous and discredited practices that falsely claim to change a person's sexual orientation or gender identity or expression."
Pence's website also calls for discrimination against gay marriage saying, "Congress should oppose any effort to put gay and lesbian relationships on an equal legal status with heterosexual marriage."
He sounds like a real peach.
This is all aside from the positively disgusting campaign promises made by President-elect Trump including building a wall to keep out Mexican people, deporting millions of families, and calling for the banning of Muslims from entering our country while forcing those that already live here to "register."
The message also comes after a few days of horrifying appointments to the Trump administration that should have everyone afraid. From known anti-semite and leader of the alt-right (aka, white supremacist) movement Steve Bannon to Senator Jeff Sessions, once considered too racist to serve as a federal judge, to lying, Islamophobe Lt. Gen. Michael T. Flynn.
As "Hamilton" producer Jeffrey Sellers told The Hollywood Reporter, "This is not a normal time, this is not a normal election. This has not been a normal result. And in a democracy, one must let his and her voice be heard, and we were not going to the show tonight without expressing how we feel."
And so many of us are thrilled that they did.
This article was originally published on