Mila Kunis Refuses To Raise Brats, We Love Her Even More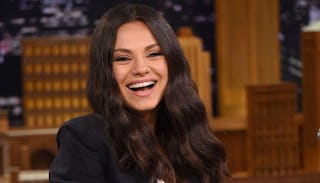 Image via Jamie McCarthy/Getty Images
Mila Kunis talks about not wanting to raise entitled kids
Even though Mila Kunis and husband Ashton Kutcher have a combined total of a frickzillion dollars, she still comes across as humble and down-to-earth. That humility really shows in a recent interview where she talks about not wanting to raise entitled kids in a situation where it would be very easy to do so.
According to People, Mila was a recent guest on Australian podcast The Kyle and Jackie O Show to talk about parenting and her new movie, Bad Moms. She says, "The one topic of conversation we had even prior to ever having kids was always, 'How do you raise a child to not be an ass?'"
Which is an excellent question that even us Normals ask ourselves when it comes to bringing up baby. You want them to have a full and comfortable life, but you also don't want them taking that comfort for granted. Or being "an ass."
Kunis clearly gets it. "It's so important because we both came from pretty solid poverty backgrounds and grew up very poor and are very much self-made and are very aware of what a dollar is worth. Nothing's been handed to us."
She explains that she wants 22-month-old daughter Wyatt and the couple's second baby, whom Kunis is currently pregnant with, to grasp that they have to work for their money. "It's a matter of teaching them from a very early age that, you know, 'Mommy and Daddy may have a dollar, but you're poor. You are very poor, you have nothing. Mommy and Daddy have a bank account.'" She then alludes to her own childhood saying her kids will never "have ketchup soup for dinner," so it will be more difficult to help them grasp what it means to work your way up in the world.
Of course, she's joking about her kids being "poor." It's not as though she and Kutcher are going to get little Wyatt set up on job interviews so she can pull her weight by preschool. What she's saying is that she and Kutcher want their kids to understand that they won't have an easy life simply by showing up. That Mommy and Daddy earned their considerable wealth and Wyatt and her future sibling will have to do the same.
It's a lesson even non-celebrity parents should teach their kids, on a relative scale since most of us aren't Mila and Ashton rich. I will confess it's something I fear I'm failing at, as my son and daughter will accidentally break a toy and quickly say, "we can just buy a new one!" They seem to view my debit card as a gift card with an endless amount of money and definitely take for granted that my husband and I provide everything. I need to step up my game when it comes to teaching my kids about money and the value of working for it. Kunis' remarks are a good reminder of my short-comings.
It's refreshing to hear in a world of celebrity kids with wardrobes nicer than mine that there are famous parents making it a priority to raise children who understand that money should be earned, not handed to them for nothing. It sounds like Mila and Ashton are nailing it.