Miley Cyrus And Liam Hemsworth Split 8 Months After Tying The Knot
by Madison Vanderberg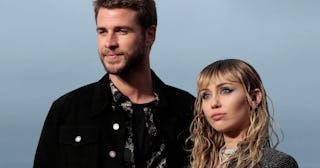 Getty/KYLE GRILLOT
Miley Cyrus and Liam Hemsworth have separated less than a year after getting hitched
Miley Cyrus and Liam Hemsworth have separated roughly eight months after tying the knot at an intimate ceremony in December 2018. The couple's rep broke the news to People on August 10, 2019, and we're not gonna lie, we thought those crazy kids were going to make it.
"Liam and Miley have agreed to separate at this time," a rep for Cyrus said in a statement. "Ever-evolving, changing as partners and individuals, they have decided this is what's best while they both focus on themselves and careers. They still remain dedicated parents to all of their animals they share while lovingly taking this time apart. Please respect their process and privacy."
Cyrus constantly gushed about her husband and had always been forthcoming about their relationship and how she and Hemsworth attempted to carve out space in holy matrimony that worked for them.
Just last month, Cyrus talked to Elle about her marriage, opening up on why she rejects the "stereotypical wife role."
"I think it's very confusing to people that I'm married. But my relationship is unique," Cyrus told Elle. "I don't know that I would ever publicly allow people in there because it's so complex, and modern, and new that I don't think we're in a place where people would get it. I mean, do people really think that I'm at home in a fucking apron cooking dinner? I'm in a hetero relationship, but I still am very sexually attracted to women."
Cyrus came out as pansexual and gender-fluid in 2015 and told Vanity Fair earlier this year that she takes pride in "redefining…what it looks like for someone that's a queer person like myself to be in a hetero relationship."
"What I preach is: People fall in love with people, not gender, not looks, not whatever. What I'm in love with exists on almost a spiritual level. It has nothing to do with sexuality," she told Vanity Fair. "Relationships and partnerships in a new generation — I don't think they have so much to do with sexuality or gender. Sex is actually a small part, and gender is a very small, almost irrelevant part of relationships."
Rumors of a split began when eagle-eyed fans noticed she wasn't wearing her wedding ring in an Instagram photo posted earlier today.
Cyrus seems to be recovering from the split by traveling around Italy on a "girls trip" with her older sister Brandi Cyrus and pal Kaitlynn Carter — who also recently separated from husband Brody Jenner.
https://www.instagram.com/p/B083JJhA_LU/
Cyrus and Hemsworth met in 2009 on the set of The Last Song, where they played lovers. They dated off and on until 2012 when they got engaged. They briefly called off the engagement but got back together in 2015, and finally — tied the knot in 2018.
This article was originally published on