All The Stunning Pics From Miley Cyrus And Liam Hemsworth's Secret Wedding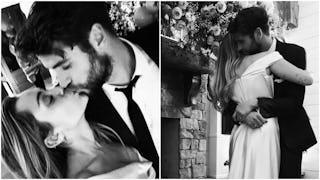 Image via Miley Cyrus/Instagram
Prepare yourself for some glorious pictures from Miley Cyrus and Liam Hemsworth's wedding
So, Miley Cyrus and Liam Hemsworth got married this past weekend in basically total secrecy, and their wedding looked like a magical wonderland (cue "Malibu" immediately). Cyrus and Hemsworth shared some dreamy pictures from the day and it's going to make you want to go back and rewatch The Last Song – aka the movie where the couple first met, aka Sobfest 2010.
Cyrus broke the news on Instagram by sharing a picture of the two smooching along with the caption: "This is probably our one – millionth kiss…."
She was in a wedding dress, he was in a suit, and when one user commented that she had just married the hottest man in Hollywood, Cyrus wholeheartedly agreed.
She also posted a picture of the two embracing, with a whole bunch of roses behind them, and it all looked very, very beautiful.
https://www.instagram.com/p/Br3VA71h0Ov/
Lots of fun things happened at the wedding. At one point, Cyrus danced to "Uptown Funk."
https://www.instagram.com/p/Br4DjUmFH3n/
They cut the cake, there were really pretty cupcakes, Mr. and Mrs. balloons hung from the wall, and people did shots (hi, cameo from Chris Hemsworth).
https://www.instagram.com/p/BryBkNulLjl/
Also, Cyrus's mom Tish shared some family snapshots and seeing Billy Ray and Miley together will make you nostalgic for "Hannah Montana" in a surprisingly intense way.
https://www.instagram.com/p/Br51VpPhQed/
https://www.instagram.com/p/Br51N02BxvF/
A source told Entertainment Tonight that the couple wanted a relaxed wedding, noting: "They did some quick pre-planning before the holiday and decided that they didn't want a big elaborate wedding. They truly wanted to keep it a secret. They just wanted the people most important in their lives present."
Sigh. Signing off with some vintage Cyrus/Hemsworth moments. Congrats to the happy couple!