Letter From Santa Offers Perfect Solution For Parents Who Work On Christmas Day
by Thea Glassman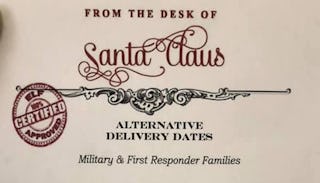 Image via Stephanie Lynn/Facebook
This is the perfect way to celebrate Christmas for military and first responder families who are busy during the holiday
Stephanie Lynn wants to make the holidays easier for military and first responder families. In a recent Facebook post, she wrote that her husband Brent will be working on Christmas and she came up with a brilliant solution so that the family can still spend the special day together. Lynn penned her kids a note as Santa Claus, explaining that Christmas was going to fall on a different day this year.
The letter will make your heart swell about ten sizes.
Lynn began her Facebook post by explaining how difficult the holidays can be for military and first responder families. "Juggling shift work…on-call hours, deployments, TDYs, etc. and 'normal' holiday events can get quite hectic," she wrote. "And no matter what, our amazing kids just push on through, sharing their parent(s) with us all."
To ease all of the stress, Lynn went ahead and did something a little different this year.
"We've decided to have Christmas the morning of the 24th, when we can all be together," she explained. "I typed up a letter from Santa Claus, just for these special kids, and wanted to share it with y'all, just in case.'
In a very official letter sent straight from the North Pole, Santa explained that children of military members and first responders were part of a special group who will be celebrating the holidays a little differently.
"I know sometimes your mom or dad can't be home on Christmas Day because they're working – keeping us safe and healthy," the letter read. "Christmas is about family, and even though your mom or dad will be working hard on the 25th, I want your whole family to have a very special Christmas morning – together."
Santa/Lynn then listed some alternate dates for elves to bring their Christmas delivers to the house, and gave parents the option of checking off the box that works for them.
"Thank you for being such great children, and sharing your moms and dads with us all when we need them the most," the note concluded.
Are you officially choked up? You're not alone. Lynn's Facebook post has since been shared 25,000 times and thousands of comments poured in. Some people started requesting similar letters from Santa for other circumstances that make Christmas tricky for parents, and Lynn happily obliged.
She created notes for medical professionals, pilots and flight crews, divorced families, and one for general use. Now that's a true holiday miracle right there.
All the applause to Lynn for making families' lives a little easier this year. She's officially earned a permanent spot on the "nice list."
This article was originally published on