Women Can't Even Serve Their Country Without Being Judged And Shamed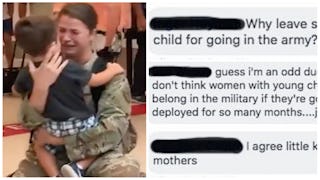 Image via Facebook/Scary Mommy Time Out
This Air Force Sergeant and mother is being shamed for 'leaving' her child while on deployment
Air Force Staff Sergeant and mom Chelsey Speicher recently returned home from her first deployment overseas, and the viral homecoming video showing her embracing her son for the first time in six months made plenty of hearts grow a few sizes. But not everyone who watched the video was warmed by the sight of a mom who proudly serves her country returning home to her family.
Why? Because women can't do anything without being judged and shamed.
If you watch the video, it's clear Speicher is beyond thrilled to see her toddler son, Bennett, as any mom would be. She tells USA Today she and Bennett talked every other day via FaceTime, and that thinking of the moment when she'd finally reunite with her son is what got her through each day.
But because she's a woman, and a working military mom to boot, when her video was posted on Facebook (Scary Mommy's Time Out page, no less), plenty of people showed up to shame her for her life choices. "
"She needs to be at home with her baby." Hmm…do people comment that kind of judgemental crap on the thousands of military homecoming videos centered on dads who return from deployment?
NOPE. No they don't.
"I guess being a mom first is not for everyone." Are you f*cking kidding me with this? Does anyone out there — especially those who watched this video — truly believe she's not a devoted, loving mother just because she also happens to be a sergeant in the Air Force?
And they don't need their dads? Her son was with his father — his other parent in this scenario. Again, would anyone say this to the men who serve our country?
Oh and don't forget all the people who felt Sergeant Speicher wasn't attentive enough to her husband while reuniting with and embracing her two-year-old son.
It's undoubtedly incredibly difficult for any parent to be away from their child for six months, and the last thing parents like Speicher deserve is to be admonished for doing her job while still being the best mother she can be.
The limited, sexist perspective shown by comments like these shows just how obvious the double standard is with women and mothers who serve our country vs. the men and fathers who do. When fathers are deployed and come home and surprise their kids, the videos go viral and everyone shares their support and emotions in the comments section. A mother, doing the exact same job, is shamed for leaving her child.
It's bullshit. Full stop.