People Are Treating Dogs Like Children And Putting 'Cheap' Dog Food Brands Out Of Business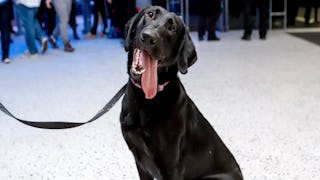 Image via Getty Images/ Darcy Finley
Dog foods made with premium ingredients are in high demand, which means lower-quality brands are seeing less profit
If you have a pet, you know they're an important (read: critical) member of the family. We buy our fur babies toys, luxurious beds, and according to a recent report on millennial spending, some super expensive dog food. So much so, it's putting "cheap" dog food companies out of business.
According to a report by The Wall Street Journal, pet food brands such as Mars' Pedigree, Nestle's Purina, and Kibbles 'N Bits have seen plummeting sales in recent years as pet owners opt for more premium ingredients for their four-legged friends.
Spending on pet food rose 30 percent per U.S. household between 2006 and 2010, according to Nielsen, and increased 36 percent between 2007 and 2017. Much of that spike is being contributed to the younger generation, who "treat them like it was their firstborn child," said Beverley Petrunich, owner of doggy daycare DoGone Fun. Well, duh.
Many millennials are waiting longer to buy homes or have kids, instead, choosing to add to their fur-family. And since their pet is the only one vying for their attention (and paycheck), they get smothered with only the best products — food included.
More than 4,500 new pet-food products were introduced in 2017, according to data analytics firm GfK, a 45% increase from 2016. With all the options for food and snack products using premium products, it's leaving affordable food, which often contains fillers, by the wayside. Although many owners feel this is best for their mutts, prices on average have risen from $1.71 a pound in 2011 to $2.55 a pound at the end of 2017.
And it's not just their food. According to the American Pet Products Association (APPA), pet owners in the U.S. spent $69.5 billion on their pets last year, up from $41.2 billion in 2007.
You say this like it's a bad thing? Listen, our pets give us unconditional love, all of the face licks, and unlimited snuggles. They listen and love and want nothing in return, so why wouldn't we lavish them with only the best? I'm no millennial but I guarantee I contribute to a large portion of that $70 billion. My dogs want a new toy every week, they need a new toy every week. And mama's here to make that happen.
"Pet population growth is faster than with humans," said Bobby Modi, head of pet strategy for Jif peanut butter and Folgers coffee. And with gluten free, refrigeration-only brands, and premium dog treats continuing to skyrocket in sales, it's probably not going to end anytime soon.