Heart-Stopping Video Shows Bus Driver Saving Baby Walking Over Overpass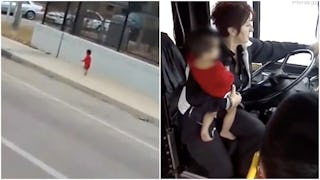 Image via YouTube/ABC News
The bus driver's quick thinking likely saved the child's life
Video captured a terrifying situation as a little baby walked barefoot over an overpass all by herself last month. A bus driver was driving by and saw the little girl and thanks to her quick actions, the baby is alive and safe.
Milwaukee County bus driver Irena Ivic spotted the baby running on the side of the road on the morning of December 22. She was barefoot, wearing a onesie and a diaper, and there was no adult in sight. It's impossible not to watch this video without a mixture of dread and extreme relief for what could have ended so tragically.
"Oh my God, I was so upset and I couldn't believe that somebody can, left the child on the street," Ivic said in a ceremony held in her honor this week "Baby was so scared and cried, and she didn't know what to do, where to go."
Ivic stopped the bus immediately upon seeing her and ran across a busy road to grab the girl, who was less than two years old. She got back on the bus, visibly shaken, and a passenger brought up her winter coat, wrapping it around the baby while authorities were called.
"I'm just grateful I was in the right place at the right time," Ivic said. Firefighters, police officers and transit security officers arrived shortly after Ivic rescued the little girl, who'd already fallen asleep in her arms. Respondents said they found the baby cold but otherwise in good health.
Police said the girl had been left outside by her mother, who was suffering a mental health crisis at the time. Authorities reunited the girl with her father, who told WISN she is doing well.
This is the ninth time a lost or missing child has been found by a Milwaukee County Transit System driver in recent years, according to transit authorities' statement.
"That's the sort of human impulse we should be celebrating and encouraging," Milwaukee County Executive Chris Abele during the ceremony, thanking her for her quick thinking.
"I absolutely love kids. I used to be a teacher and I have children of my own, so I'm so happy I was able to help this sweet, innocent baby," Ivic said. She immigrated to Milwaukee 12 years ago from Serbia.
Thank goodness Ivic was driving by and rescued this sweet baby, likely saving her from what could have been a terrible situation.