Instagram Pic Shows Mindy Kaling Living Her Best Breast Pump Life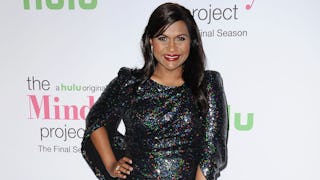 Image via Jason LaVeris/FilmMagic)
We love seeing Mindy as an Extremely Relatable mom
Someday someone will invent a way to extract milk from moms that doesn't involve slapping on boob funnels and hooking up to a loud, mildly uncomfortable human dairy machine. Until then, we have the breast pump. The working mom's reluctant best friend — just ask Mindy Kaling.
Kaling is a busy woman these days. She's promoting A Wrinkle In Time alongside Reese Witherspoon and Oprah for the next couple of weeks, and she's got a new show coming out in March, too. She's also new mom to baby Katherine, who was born in December. So while she's in the middle of press junket season for her movie, a mom's gotta do what a mom's gotta do: live that breast pump life.
The press junket is actually her first big public appearance since giving birth to Katherine — and many of us can remember how daunting it is going back to work with your breast pump in tow.
Kaling seems to be handling it just fine.
She's always been incredibly likable and real — from her social media presence to her characters (Mindy Lahiri forever). But her mom content in particular is Extremely Relatable Content.
Make-up free mom's night out? Double yep. Even sweeping on eyeshadow or curling my lashes now feels like someone's asking me to clock in 26.2 miles.
Who among us hasn't squealed over a twee "mommy and me" matching outfit set. Come one, that right there is downright adorable.
We love everything about Mindy the Mom. Lonely breast pumps and all — we're so here for it.
This article was originally published on