Mindy Kaling Explains Why She Won't Reveal Her Daughter Katherine's Father
by Madison Vanderberg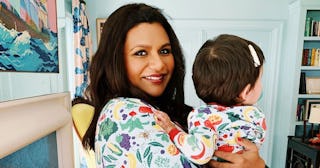 Mindy Kaling/Instagram
Mindy Kaling says she's "not going to talk to anyone" about her daughter Katherine's paternity
Mindy Kaling welcomed her daughter Katherine Swati at the end of 2017 and although she's super vocal and honest about being a single mother, Kaling has made the decision not to talk about the identity of her daughter's father. It's really no one's business but Mindy's, but in a new interview with The New York Times, Kaling offered some insight as to why she's keeping her daughter's paternity private and why she might open up about it in the future.
"My feeling is that until I speak to my daughter about that, I'm not going to talk to anyone else about it," Kaling told the publication.
There are many ways for women to have a baby without the role we refer to as "the father," and Kaling and Katherine don't owe anybody any explanation. In general, Kaling is fiercely private about her daughter and famously doesn't show her face in photos.
Kaling told the digitial issue of Glamour earlier this month that she's happy to share most of her life on social media, but when it comes to her family — that's private.
"I'm on social media and like sharing with people what my interests are and how my day's going and all of that, but I do feel entitled to have privacy about my daughter and my relationships," Kaling told Glamour. "It's really essential to my life that there be something not everybody knows about. That's a boundary, but it's a very small boundary. Everything else I really don't have any issue sharing."
As more and more people begin to live their lives online, tons of celebrity parents are beginning to share Kaling's approach. Kristen Bell and Dax Shepard never show their daughter's faces on social media. Ashton Kutcher and Mila Kunis have been snapped with their kids by paparazzi, but they never post about them online. Pink recently announced that she was done posting photos with her kids online after facing an onslaught of mommy-shaming.
Despite Kaling's ultra private approach, she will share tiny tidbits about her relationship with her daughter online, like when she shared baby food cooking tutorials or the amazing playset she built in the backyard.
Elsewhere in The New York Times interview, Kaling admitted that she was pleasantly surprised by how much she's adapted to motherhood, despite believing that she did not have "a big maternal instinct."
"I did not think I had a big maternal instinct," Kaling admitted. "I'm very impatient, and having a baby requires an amount of patience that I was worried about. But they don't tell you that the thing will look so much like you, and do things that are so sweet and adorable, that you'll naturally not have the same impatience that you would have with a stranger or someone who works for you."
As for whether or not Kaling will ever divulge her daughter's paternal lineage — I mean, who cares? — Kaling is a badass mommy who loves her daughter and that's all that matters.