It's Mindy Kaling's World -- We're Just Living In It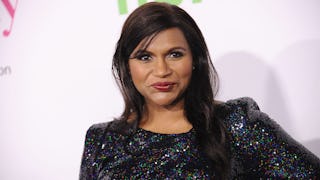 Image via Jason LaVeris/FilmMagic
Mindy Kaling is having her best week ever
To say Mindy Kaling had a big week is the understatement of the freaking century — she's straight owning life right now, and fans couldn't be happier for her. In the span of just days, she landed a major magazine cover, saw the release of a trailer for what's looking like an amazing girl-power flick, oh, and she gave birth.
No big deal at all.
The baby announcement is being exclusively reported by E! News and Kaling's rep has no comment yet, but what more is there to say other than SQUEAL. It's a girl, she came into the world on December 15, and her name is Katherine Kaling. No photos or other details on the birth have been released yet, so until that happens, I'll just be obsessively refreshing Kaling's Instagram in the hopes that we see Katherine's undoubtedly precious face soon.
The actress also has yet to reveal her daughter's father, and to that we say, good for her. It's absolutely no one's business and if she doesn't feel the need to discuss it, no one should have any concerns.
Aside from welcoming her first child, which would be enough to make anyone's week huge, the Ocean's 8 trailer (she's part of the all-star cast of eight female criminals led by none other than fellow mom Sandra Bullock) is being met with major social media cheers from scores of women who can't wait for its June 2018 release.
And when she wasn't basking in the glow of that very well-received trailer (or snuggling her new baby), she was celebrating her Time magazine cover with her A Wrinkle in Time cast mates including Reese Witherspoon, Storm Reid, and freaking Oprah. The very same Oprah who accidentally spilled Kaling's pregnancy news this summer while the actress was keeping the whole "I'm having a baby" thing relatively quiet.
We're pretty sure Oprah was swiftly forgiven. Because she's Oprah.
Fans on Twitter are reveling in Kaling's big week almost as much as I am.
Slay. All. Day.
I'd celebrate it.
Um, can Mindy be my mom? Because yes, parent jackpot for sure.
This would literally make my year, because if there's one thing the parenting world needs it's thoughts on mom life from one of the wittiest and coolest minds on earth.
One day, little Katherine will read about how she came into the world at the same time her mom was dominating it. And that's pretty much the sweetest thing ever.
This article was originally published on