Mindy Kaling Gets Real About New Mom Anxiety: 'I'm In A Constant State Of Worry'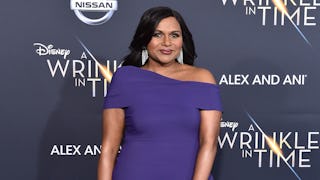 Image via Axelle/Bauer-Griffin/FilmMagic
Kaling admits she didn't understand just how much she'd worry as a new mom
Bless celebrity moms who keep things real enough so the rest of us can relate to their struggles. Mindy Kaling is quickly becoming one of our favorites. Since becoming a mom to baby Katherine back in December, she hasn't held back when it comes to living that crazy new mom life.
While promoting her new movie, A Wrinkle in Time, Kaling recently shared how maternal anxiety affects her, and what she says is relatable AF to pretty much everyone.
She tells TODAY that while she's pretty active on social media, she hasn't shared a single photo of her daughter yet. "I'm keeping her under wraps for now. I would kill someone who said anything about her." Kaling says she's "too much of a worrier" to deal with any internet trolls commenting on photos of her child, and honestly — who could blame her?
Speaking of maternal anxiety, Kaling opens up about her own experiences with its constant presence in her life now as a new mom. "I knew how much I would love her and love the experience of being with her," she says. "I never understood how much I would worry and how much that worry is unceasing."
YUP. I don't think any expecting parent ever questions how much love they'll feel for their child — you may not fully understand the level of love you'll experience, but you know you will. The anxiety thing though? I would trade all of my pregnancy talks with fellow moms about sleeping, gas tricks, swings, and diaper brands for one honest discussion about the anxiety that goes hand-in-hand with becoming a mom.
"Happiness for me, now, is just a feeling of relief," Kaling says. "I'm in a constant state of worry but I'm enjoying it too. I hope she's developing correctly — I'm anxious constantly. I'm hoping that will change a little bit. I haven't even thought about when she's bigger."
While there ain't nothing quite as overwhelming as brand-new-mom anxiety — parental anxiety never goes away. It never yields or relents — not even with each milestone. Not when they become more independent and less fragile. The "I don't know what I'm doing" panic might dissipate some because your confidence somewhat grows as they do — but that unceasing worry is here to stay.
Battling that anxiety can be a monumental effort. Kaling, a single mom, says despite her endless worrying, choosing motherhood has been inexplicably rewarding. "I look back at myself — it's very crazy to me. I feel brave having done it."