Mindy Kaling Reportedly Pregnant With Her First Child And Fans Are Freaking Out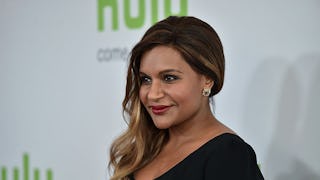 Image via Alberto E. Rodriguez/Getty Images
Sources say Mindy Kaling is pregnant with her first child
Actress Mindy Kaling of the The Mindy Project and A Wrinkle In Time is reportedly pregnant with her first child.
"An insider explained that the future arrival for the 38-year-old actress was 'an unexpected surprise' but that there will not be any changes made to production schedules for her upcoming projects," E! News reports.
The actress has in the past openly expressed her desire to have children. In 2015 she told Yahoo News, "I think I've decided that unlike everything else in my life, I'm going to be fast and loose about kids. I'm going to not actively plan, but if it happens, it would happen," the actress said. Well, anyone who's "planned" for kids will attest to what a smart outlook that is. You can try to plan all you want, but kids have an agenda of their own. They arrive when they arrive.
"I'm not cavalier about who I would have a kid with. But the thing I ask every parent that I really admire, the one comment they all have is that they wish they had kids earlier," she added in her interview with Yahoo. "In my 20s, and especially in my teens, I completely fetishized a wedding. But I think much less about marriage now. It's less interesting to me."
Kaling dated Benjamin Nugent from 2008-2012 and her Office co-star B.J. Novak from 2005-2007. Corey Booker famously tweeted a date request this year, but the two apparently never made it out. With little info about the details surrounding the rumored pregnancy, fans are freaking out.
Bottom line — we LOVE Mindy and hope the news is true so we can officially welcome her to the Scary Mommy crew.
This article was originally published on