Mindy Kaling Gets Extremely Real About Her Struggle With Social Anxiety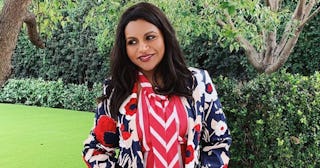 Mindy Kailing/Instagram
Mindy Kaling admits that she doesn't thrive at parties and struggles with social anxiety
Our imaginary BFF Mindy Kaling just opened up to Glamour in a big way, revealing that she's quite different from the vibrant, loud, outgoing characters she plays on TV. Kaling admitted that going to parties stresses her out and that she struggles with social anxiety.
"People may be surprised to hear this, but I think I do have a little social anxiety," Kaling told the digital issue of the magazine. "Going to parties where I don't know most of the people is stressful to me. I've always had four friends."
Kaling mentioned that she likes to attend the Met Gala — the annual costume ball that takes place each May at the Met in New York City — and although it's a glamorous affair, she admitted that it's hard to enjoy without a friend or partner.
"I've always felt, not exactly a loner, but…[for example,] I love the Met Gala, but the no-plus-one thing has always been a real stressor for me," she explained. "Luckily Anna Wintour made it so that you're going to a literal museum, where there's so much to take in. If we weren't going to a museum and just to an event space, I would need to take a Valium or something before I go because it's so stressful to me. That's not really something people know about me."
She also admitted that at the Hulu Upfronts — an event where the stars and producers of shows try to convince advertisers to put ads on their TV shows — she said she was so worried about her presentation to the advertisers that she couldn't relax and mingle with the other actors, and then went into an anxiety spiral worrying that everyone thought she was being rude, or stuck-up, and not just that she was anxious.
"I remember running into Zoë Kravitz and Margot Robbie, two people I really admire. We were chatting, but I had to excuse myself to go study for my presentation. And the entire time in the car ride home, I was feeling so anxious, like, Did Margot or Zoë think I was too short with them? I was worried they thought I was somehow rude or stuck up because I wanted to go over this presentation," Kaling remembered. "But of course, I went to bed, thinking, Oh man, if Margot Robbie thinks I'm snobby, I'll be really upset! If I had the patience or the time to see a therapist, that would be something I'd talk about with them."
Kaling told Popsugar in June 2018 that if she's feeling apprehensive about an upcoming event that might give her anxiety, she'll go for a run to calm her nerves.
"I love exercise, but not for weight-loss reasons," Kaling said. "I do it because I love the endorphins I get once I work out. So I try to get an endorphin rush before something I'm nervous about by going for a run."
Elsewhere in Kaling's Glamour interview, she elaborated on this idea that the public seems to assume she acts just like her on-camera personas. On The Office, Kaling played the larger-than-life workplace chatterbox Kelly Kapoor and then on The Mindy Project, she starred as Doctor Lahiri, a flamboyant and boy-crazy OB/GYN, though Kaling would characterize her real self as a studious, talented, and hard working writer who is most comfortable behind a laptop.
"I think there's been a tendency for people to conflate my characters with my personality," Kaling admitted. "The fact of the matter is, I wrote 24 episodes of The Office. That's more than any other person on The Office, but no one can really picture me sitting and doing the hard work of writing the episodes. It's like it doesn't compute to people because I can wear all pink and recreate Beyoncé videos. Do you know what I mean? There's an outdated version of what some people think of me because of the characters I've played. That isn't consistent with who I actually am. I find that a little disappointing."
This article was originally published on