Friends Throw New Mom Mindy Kaling Epic Rom-Com Themed Dinner Party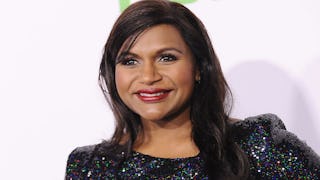 Image via Getty/Jason LaVeris/FilmMagic
Kaling's 'Yule Got Mail Holiday Dinner' menu will have you drooling
Who just had a baby and rather than tuck in and hide from the rest of the world had a Nora Ephron-themed dinner party? Mindy Kaling, obviously.
To be fair, it was her awesome friends who decided to throw her the 1990's celebration. The new mom who reportedly gave birth on December 15th, showed off the hilarious party invitation and Ephron-inspired menu on her Instagram page. Ephron is the creative genius behind classics like When Harry Met Sally, You've Got Mail, and Sleepless in Seattle. Otherwise known as everyone's favorite romantic comedies ever.
"I usually do a holiday dinner with the young women that work with me but I've had a busy week!" Kaling wrote. "So, they brought the holiday dinner to me. It's a You've Got Mail Norah Ephron-themed holiday dinner," and then thanked her two amazing buds. "It's happening TONIGHT at my house."
There's nothing better than good friends swooping in to take care of you after you've had a baby. Especially around the holidays (or any day, for that matter), the last thing a new mom wants to think about is what's for dinner.
This set of friends happened to be her team from The Mindy Project and they are quite obviously some of the most thoughtful set of coworkers on the planet. And in standard "friend who knows exactly what you need after you've given birth," they brought the party to her.
Kaling continued, "Look at this menu! Look at these Nora Ephron deep cuts! (Maybe for dessert we will have coffee… Patricia? Patricia's amazing. Patricia makes coffee nervous.)"
There are enough You've Got Mail and When Harry Met Sally references to make all our 1990's hearts melt. "Fox Books-El Sprouts," which is a nod to Tom Hanks' character's store and then there's the "Pie a la Sally," line and the infamous "I'll have what she's having," reference (which I think is something we can all get behind).
For anyone that watches The Mindy Project, you know her love of all things rom-com runs deep. In fact, she's made mention of When Harry Met Sally, You've Got Mail, and Sleepless In Seattle in many episodes, even the finale mirrored a similar flair when Mindy's character tried winning her love interest, Danny, back.
With dishes on the menu like "Shopgirl's Pasta Pomodoro" and "High Maintenance Truffle Cauliflower Soup," it's quite clear if we didn't want to be Mindy Kaling before, we do now.
This article was originally published on