Mindy Kaling Plays A Mom In Her New Show And The Trailer Is Everything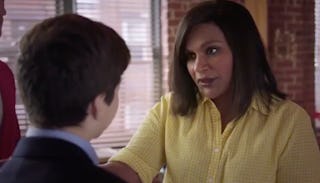 Image via Instagram/NBC
Kaling's new show Champions looks like a must-watch
Mindy Kaling is the gift that keeps on giving. She gave us the drama-obsessed Kelly Kapoor on The Office, the hilarious, deeply relatable Mindy Lahiri on The Mindy Project, and now she's returning to the small screen with what looks like yet another television gem.
A trailer for Kaling's new show Champions has just dropped, and it's a few short minutes of pure, hilarious gold (also for all you Mindy Project fans out there — Dr. Lahiri and Pastor Casey have officially been REUNITED).
The show follows the life of Vince (Anders Holm), a charming cad who finds his life turned totally upside down when his high school fling Priya (Kaling) surprises him with their teenage son. We get a sneak peek of Kaling playing mom to her Broadway-obsessed child (one Les Mis reference and counting) and the beginnings of some rocky co-parenting scenarios. Also, fellow Mindy Project alum Fortune Feimster makes an appearance, so you know things are gonna get good.
The timing of this series is kind of perfect, seeing as Kaling gave birth to a baby girl this past December. We haven't gotten a ton of updates since then, but the new mom has taken to social media to post some of the the cutest, flashiest baby swag you will ever see. No, seriously, she owns a mini-sari that's an exact replica of a Mindy Lahiri costume.
https://www.instagram.com/p/Beb-9twln5a/?taken-by=mindykaling
And the coolest stroller to ever stroll.
Seriously, this is one insanely lucky baby girl.
https://www.instagram.com/p/BdvPszLFhMd/?taken-by=mindykaling
Kaling told The Today Show back in September that she'd like to be the "fun mom," but will likely be the "dorky mom." Somehow, I find that extremely hard to believe.
"My mom was incredibly fierce and so devoted to us, just loved us and really wanted us to be happy no matter what we did," she said. "My career choice was not something that she was familiar with and she was just so supportive of that. And if I could give that to my child, just that open-mindedness, I'd be so happy."
Ugh, so beautiful. Here's to watching Kaling kill it as a mom both on and off-screen. Also, if Pastor Casey and Dr. Lahiri get a second shot at love, you won't hear me complaining.
This article was originally published on