Minka Kelly Shares Her Own Abortion Story And It's Beyond Powerful
by Thea Glassman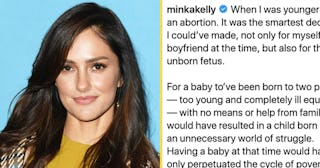 Jon Kopaloff/Getty and MInka Kelly via Instagram
Minka Kelly opened up about her own experience with abortion and why these new laws are so destructive
More and more states are lining up to rip away women's reproductive rights. Minka Kelly penned a powerful post on Instagram explaining exactly why these laws are so damaging for women and families. She also shared her own experience with abortion and why she doesn't regret her decision one bit.
Kelly took to Instagram to post a picture of the twenty-five male Alabama senators who voted to advance the most restrictive abortion law in the country. The actress began her post by explaining that she made the decision to get an abortion when she was younger.
"It was the smartest decision I could've made, not only for myself & my boyfriend at the time, but also for this unborn fetus," she wrote. "For a baby to've been born to two people — too young and completely ill equipped — with no means or help from family, would have resulted in a child born into an unnecessary world of struggle."
If she had gone through with the pregnancy, Kelly noted, the child would have been raised in the same "cycle of poverty, chaos and dysfunction" she was born into. She also pointed out the hypocrisy that many of these anti-abortion politicians fight for fetuses to be born BUT have no interest in helping them after they're actually in the world.
"What do you think happens to these kids who end up bouncing around in foster care, live on government assistance because the mother has no help, can't afford childcare while she works a minimum wage job, and is trapped in a cycle of trying to survive on the meager government assistance so many of you same pro-lifers are determined to also take away," Kelly wrote.
And WHY, she asked, do these very same people not want to discuss supporting women's health in other ways, like maternal mortality rate, free daycare, and paid maternity leave? The only times they seem concerned about women and children is when it involves a pregnancy. Forget about everything else after that.
Kelly also made the very important point that men would be handling this situation so, so differently if they were the ones in the woman's situation.
"By looking at the photo of all the men who are making this mess, I find it hard to believe that if it were the autonomy of a man's body, health and life in question, I cant help but be certain we wouldn't be having this conversation in the first place," she wrote.
Kelly is one of the many women who are opening up about their abortions in light of these awful laws. Busy Philipps kicked off the open, honest discussion when she appeared on her talk show and spoke candidly about her own experience.
"The statistic is one in four women will have an abortion before age 45," she said. "That statistic sometimes surprises people, and maybe you're sitting there thinking, 'I don't know a woman who would have an abortion.' Well, you know me."
Lots and lots of women chimed in on Twitter, under the hashtag #YouKnowMe.
If you'd like to help the women in Alabama who are having their reproductive rights completely taken away, head to The Yellowhammer Fund, a local fund that helps women afford the expenses necessary to get an abortion.