School District Food Truck Offers Free Meals To Kids During The Summer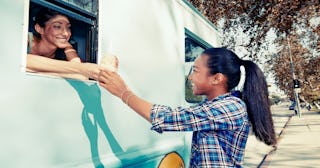 Getty/Peathegee Inc
The truck has healthy breakfast and lunch options for kids under 18
Schools out for summer in most states across the U.S. and for kids who rely on free or reduced lunches at school, this can mean limited access to healthy food. One school district in Minnesota is making sure kids still have breakfast and lunch options available in the summer months via a food truck — and it's all free.
The St. Paul Public School district is using a food truck to deliver high-quality meal options from mid-June until the end of August to serve the more than 300,000 students who qualify for free and reduced meals at schools. The Summer Food Service Program will serve meals at one of 11 food stops at parks, rec centers, schools, and community sites around St. Paul.
The best part? As long as you're under 18, you can walk up to the truck no questions asked and no registration required and receive a free, nutritious meal.
"There's a greater need for mobile [food] than I think is being met," said Jason Viana, executive director of the Eagan-based nonprofit, the Open Door, which has a mobile service bringing free meals to kids in the South Metro. "There's a lot of people in the suburbs who need help. It's easy to not see it."
"There's a nutritional gap that can happen in the summer," Jill Westlund, a nutrition coordinator for St. Paul told MPR News. "Speaking from my own experience with my kids, if they were left to their own devices and not offered anything else, they would just eat noodles and crackers all day."
Some of the healthy food choices on the truck include breakfast bars, yogurt, sliced apples, juice, and cheese. The lunch menu serves balanced snack boxes like you'd find at Starbucks and club sandwiches. "It's similar to when you think about an ice cream truck rolling down the street and playing music, and everybody chases after it," Westlund said. "We're trying to do the same thing, just with different food. We can't give them ice cream, unfortunately."
The meals for the St. Paul district truck are funded by the U.S. Department of Agriculture and meet the same nutritional standards as food served in school cafeterias. But there's more good news for the kids of Minnesota — this isn't the only truck that will be serving free food this summer.
Street Eats will once again make stops across the city offering free lunches during the summer months. The truck is part of Minneapolis Public Schools Culinary and Wellness Services and locations can be found using their mobile app. The Minnesota Vikings are also getting in on the party as well, unveiling a new food truck as a part of the Minnesota Vikings Foundation that will dish up free healthy meals to Twin Cities kids in need.
"A lot of neighborhood kids come around here, so it's good for the summertime to get them fed and keep them going," Grandma and daycare provider Stacy Davis said. "It's less money out of their pockets and it helps out people with low incomes."
Minnesota isn't the only state offering free meals for kids during the summer months. The U.S. Department of Agriculture has information about how you can find services in your area on their website.