Mira Sorvino And Ashley Judd Were Victims Of A Harvey Weinstein 'Smear Campaign'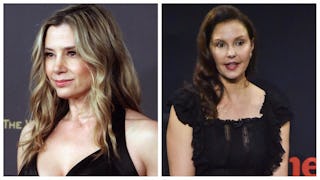 Image via Getty
The actresses were apparently blacklisted by Weinstein and their careers suffered
It's only been two months since all the sexual misconduct allegations against notorious Hollywood producer Harvey Weinstein came to light, but it seems like every day we're learning how his treachery plagued actresses for decades. After learning Weinstein had her intentionally blacklisted from being cast in movies, Mira Sorvino is speaking out.
Sorvino, along with actress and activist Ashley Judd, were featured in an interview given by Lord of the Rings director Peter Jackson, where he confirmed both actresses were blacklisted by Weinstein and his company. Meaning Weinstein used his power and financial influence to dissuade any directors from casting either actress in films his company, Miramax, was producing.
Both actresses have come forward as victims of Weinstein's abhorrent sexual misconduct in the past. Coincidence? Sure, Jan.
In the interview, Jackson says he expressed interest in casting both Sorvino and Judd. "I recall Miramax telling us they were a nightmare to work with and we should avoid them at all costs. This was probably in 1998," Jackson said. "At the time, we had no reason to question what these guys were telling us – but in hindsight, I realize that this was very likely the Miramax smear campaign in full swing."
After hearing Jackson's confirmation that yes, both actresses took to Twitter to verify they were indeed not only victims of Weinstein's unwanted sexual advances, they were also victims of his shit-talking smear campaign.
Sorvino had an emotional reaction upon learning the information from Jackson's interview.
It's heart-wrenching. Anytime we question why we never see some of our favorite actresses in films anymore, as I know I have with Ashley Judd and Mira Sorvino more than once, now we have to wonder if the reason is truly as sinister as this. It's despicable.
Plenty of people have reacted strongly to Sorvino's tweet in particular.
Can we please just acknowledge the fact that these two women have shown nothing but strength and grace? Even to Peter Jackson — who, I'm sorry, is still complicit in the damage their careers have weathered. Ever seen Double Jeopardy? Judd is amazing. The Divine Secrets of the Ya-Ya Sisterhood as a whole is a mess, but Judd's performance is nothing short of stellar. She's a fantastic dramatic actress. And Romy and Michelle's High School Reunion? Don't even get me started because I'll sit here and quote it all night. In Mira Sorvino's perfect Valley Girl accent. I can confidently say I speak for many fans when I say we all would have loved to see more from these talented women.
Here's hoping in 2018, we do.