Mira Sorvino: 'I'm at War With the Needs of My Career and My Family'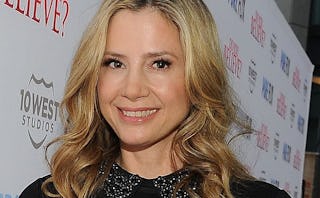 The actress, 47, talked to The Mid contributor Jeanne Wolf about her new movie, motherhood, and date night with her husband, actor Christopher Backus, 33.
There's been an upsurge in faith-based movies and TV shows. Are you surprised at their success?
No. I think that faith in all of its various incarnations – it doesn't have to be Christian faith – is a part of people looking for a higher meaning to their life. It's not just about the toys and the cars and the flat screen TVs or who has the best facelift. Life has to be something more than that. It has to be something more than the content of a reality TV show. I think that this film fills that need, that there is a faith-based audience out there that is looking for content and entertainment that speaks to those themes.
Is faith important in your own life?
I am a card-carrying Christian. My faith has always been there. I was raised Episcopalian and I still am. I think my faith has gotten stronger as I have gotten older, honestly. I have sort of found it for myself rather than it being a thing that was taught to me. I have now fully embraced my religion and it is a very important part of my life and my children's lives.
Speaking of your kids, you have four — what's it like keeping up with them?
It's fantastic, but it's chaos all of the time. That's my reality. I always say "four is more" because when we had three, I always said I wanted another, and my husband wasn't into it. But I said "please" and he agreed and we had a fourth baby.
How do you juggle motherhood and your busy career?
I feel like I'm at war with the needs of my career and the needs of my family. I always feel terrible when I'm away too long, but I try to make it up by being the best, most present, wonderful mom I can be when I'm with them. As an actor, you get these long periods of time when you're off, so you get extra months to be the best mom. When you're working, it's hard to be the best mom you can be. It's a real tug of war. There is no supermom. You can't have it all. Something has to suffer.
How about finding time to be with your husband?
We have date nights, but we have to organize them far in advance. I'm like, "So honey, which day next week do you want a date night and I'll call the babysitter?" because we don't have a full-time nanny. We just go out to dinner. It's just that. It's like a lot for us. We'll go to Nobu [restaurant] or something and that's perfect.
This article was originally published on