Couple Mistakenly Receives Hundreds Of Letters To Santa Each Year And Fulfills Them All
by Megan Zander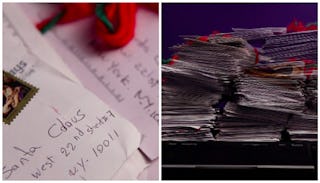 Couple creates volunteer network to make sure no letter to Santa goes unanswered
Jim Glaub and Dylan Parker don't live at the North Pole. But ever since they moved into their apartment in Manhattan, each November the mailbox would start to fill up with letters from hopeful children trying to reach the big man in red. They don't know how or why their 22nd street address became known as Santa's house, but rather than mark them return to sender or toss them as junk mail, the couple has embraced the letters.
Even though they no longer live in the apartment, they still work each year to have each Christmas letter fulfilled by a volunteer sponsor.
Glaub tells People he knew the previous tenant had been receiving letters to Santa when he first moved into the apartment alone, but he didn't think much of it at first. "They never answered them because it was only three or four letters a year," he said. "And the first two years I lived there, it was that exact thing. I'd get three letters and I didn't really think anything of it. I was like, 'Oh, sorry — wrong number.' "
But the letters continued to grow in number. By 2010, the couple, now married four years, received almost 450 letters to Santa. The holiday wishes were coming from nearby addresses. It was reading these sweet requests from children so close by that finally drove Glaub and Parker to turn themselves into honorary elves. "These were our neighbors in the Bronx, Queens, Manhattan … these were our people," Glaub says. "I just felt this need to help them."
They started the Facebook page Miracle on 22nd Street, where people can volunteer to take a letter that the couple selects at random and fulfill it by sending a gift to the child who wrote it. Thanks to the help of social media, word of mouth and a short film by Redglass Pictures on the couple's project, for the past 6 years no letter to Santa has gone unanswered. The couple has since relocated across the pond to London, but they still manage the project, working with the current tenant and friends to get copies of all the letters in order connect them with volunteers.
While people are generous, it's not always easy. Glaub told Scary Mommy the process can be stressful and that he was "begging" for sponsors only days ago. But in the spirit of the season, and just in time, all of these children (and probably some really surprised parents) will witness true Christmas magic.
Glaub shared a few of the letters they receive, and it's both astonishing and sweet to read how some kids ask Santa for things for other people along with or even instead of gifts for themselves.
"This Christmas I don't want much but a small favor to ask. I've been sick the past few weeks with gastritis (acid reflux) pain in the stomach. I just want to be able to have a happy holiday without pain," one child writes. "I would also like it if you were able to bring my family, both parents and sister, plus those in Mexico a good stable health and a joyful Christmas," they say. "… [I]n the concern of presents, I will just ask for you to bring anything that comes to mind." I'm not the lucky soul who got to answer this child's letter in lieu of Santa, but I hope there's a giant ass teddy bear towering over the tree for them on Christmas morning.
Some children write to Santa requesting nothing at all for themselves.
"Oh and I was hoping if you could keep in mind the homeless man under the bridge and keep him safe, warm and healthy this upcoming year," this letter reads.
Even though Glaub and Parker have found volunteers for all their letters this year, if you want to get in on the elf action yourself, there's still a way to help Santa out. The US Postal Service gets it's share of letters for the North Pole too, and through Operation Santa, you can adopt a letter to either respond to in writing or even send a gift.
2016 has not been the best of years, and that's being polite about it. So here's to the bright spots, like having the power to make a child's Christmas wish come true.