Miss England Stops Her Duties To Return To Work As A Doctor Amid Coronavirus
by Leah Groth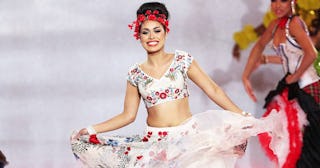 Yui Mok/PA Image/Getty
Miss England 2019, Bhasha Mukherjee, has taken a break from her charitable duties to return to the medical field as a doctor battling the COVID-19 pandemic
Bhasha Mukherjee, Miss England 2019, boasts more than just a crown — she has a medical degree. The beauty queen, who took a break from her career as a junior doctor to compete in pageants, has returned to the United Kingdom in the midst of the COVID-19 pandemic in order to battle the deadly virus on the front lines.
According to CNN, Mukherjee was doing overseas charity work after being invited to be an ambassador for several charities after representing England in the Miss World pageant in December 2019.
"I was invited to Africa, to Turkey, then to India, Pakistan and several other Asian countries to be an ambassador for various charity work," she told CNN.
She planned on focusing on humanitarian work until August 2020. However, in March, after spending four weeks in India on behalf of Coventry Mercia Lions Club, one of the charities for which she was ambassador, she was forced to re-examine her priorities. Former colleagues from the Pilgrim Hospital in Boston, eastern England, began sending her messages about the devastating situation. She soon contacted the hospital and let them know she wanted to return to work.
Mukherjee told CNN that it felt wrong to be wearing her Miss England crown — even though she was doing humanitarian work — while her colleagues were battling the devastating virus.
"When you are doing all this humanitarian work abroad, you're still expected to put the crown on, get ready… look pretty," she explained. "I wanted to come back home. I wanted to come and go straight to work."
"I felt a sense of this is what I'd got this degree for and what better time to be part of this particular sector than now. It was incredible the way the whole world was celebrating all key workers, and I wanted to be one of those, and I knew I could help," she said.
She returned to the UK on April 1, after spending a week in isolation in India, and will begin working as a doctor at the Pilgrim Hospital after self-isolating for one to two weeks. While she specializes in respiratory medicine, she explained to CNN that doctors are being rotated on an as-need basis.
"There's no better time for me to be Miss England and helping England at a time of need," she said.