Beauty Pageant Contestants Give Out Violence Against Women Facts As Their Measurements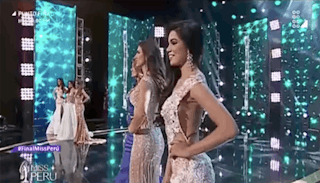 Image via YouTube
Miss Peru contestants used their time at the mic to educate the audience about violence against women
Even if you claim to hate beauty pageants and all that they stand for, you're still going to cheer for the women who competed in this year's Miss Peru contest. Traditionally there's a portion of the competition where each contestant shares her measurements with the judges and audience. But since women are so much more than their bra size, this year they decided to take things in a different direction.
Contestants in the Miss Peru competition this past Sunday banned together to draw attention to the horrific amounts of violence women and girls face in their country.
Violence against females is a major issue in the country right now. One UN study found more than 50% of Peruvian women will experience domestic violence in her life. And when it comes to Peruvian women between the ages of 15 to 24, over one-third will experience physical violence. So the contestants decided to use their time on stage wisely by sharing a statistic about the state of females in Peru instead of their hip to bust ratio.
"My name is Camila Canicoba," said the first woman to take the microphone, "and I represent the department of Lima. My measurements are: 2,202 cases of murdered women reported in the last nine years in my country."
"My name is Juana Acevedo and my measurements are: more than 70% of women in our country are victims of street harassment."
"My name is Bélgica Guerra and I represent Chincha. My measurements are: the 65% of university women who are assaulted by their partners."
"My name is Romina Lozano and I represent the constitutional province of Callao, and my measurements are: 3,114 women victims of trafficking up until 2014."
The protest was planned, not just between the awesome contestants themselves, but also with the event organizers, who saw they had an opportunity to try and make an impact on the level of violence females in Peru face. During the swimsuit portion of the competition, newspaper articles featuring photos of women who had been physically attacked were shown on giant screens.
The message carried over to the interview portion of the competition. The contestants were asked what they would change about the current legal code to offer women and girls more protection.
It's sickening how violence against women is so commonplace in Peru that it's taking large scale demonstrations like this one in order to try and make a difference. But women coming together are powerful as hell, and if this display helps even one girl or women get help or prevents even one perpetrator from acting out, then all the efforts were well worth it.
Jessica Newton, the pageant's organizer and former pageant contestant, said the decision to reinvent this year's Miss Peru competition as a PSA against female based violence was a no-brainer. "Everyone who does not denounce and everyone who does not do something to stop this is an accomplice," she told Buzzfeed.
She also slammed the door on anyone who thinks women wearing bathing suits as part of a beauty competition is an excuse to objectify them. After all, respect for all women, regardless of what they're wearing, was a major part of the night's overall message.
"Women can walk out naked if they want to. Naked. It's a personal decision," said Newton. "If I walk out in a bathing suit I am just as decent as a woman who walks out in an evening dress."
This article was originally published on