Miss Texas Took A Harder Stance On White Supremacy Than Our Own President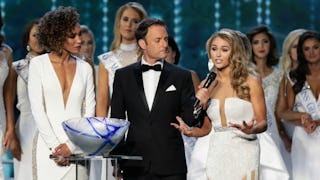 Image via Donald Kravitz/Getty Images for Dick Clark Productions
In 15 seconds, Miss Texas managed to condemn white supremacy more strongly than Donald Trump ever has
Sunday night's Miss America pageant was not without its political moments. Representatives of all 50 states were asked to weigh in on the Paris Agreement, Donald Trump's ties to Russia, and more straight-from-the-headlines issues. One of the most memorable moments came from Miss Texas Margana Wood, who, during the question and answer portion of the competition, was asked about Trump's response to the white supremacist march that took place in Charlottesville, Virginia, last month.
The question, which came from People and Entertainment Weekly editorial director Jess Cagle, was whether there were actually "fine people," like Trump said, on both sides in Charlottesville.
Miss American contestants are given 20 seconds to answer their questions. Wood only needed 15.
"I think that the white supremacist issue, it was very obvious that it was a terrorist attack," she said. "And I think that President Donald Trump should've made a statement earlier addressing the fact, and in making sure all Americans feel safe in this country. That is the number one issue right now."
That's right. In under 20 seconds, she gave a more blistering, unwavering condemnation of white supremacy than Trump has been able to give in more than a month since the march in Charlottesville took place. Obviously, the internet took note and was seriously impressed.
Even celebrities got in on praising Wood's answer, including director Judd Apatow.
Wood ended the night as fourth runner-up, while Miss North Dakota Cara Mund was crowned Miss America. Wood may not have the crown, but she does have a whole lot of love and support from the internet.