GOP Candidate Refuses Interview With Female Reporter Because Of His 'Christian Values'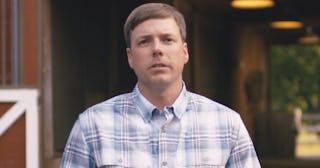 Robert Foster/Youtube
Robert Foster refused to an all-day interview with reporter Larrison Campbell because he can't be alone with women
Today in "literally what is wrong with everyone in America" news: Mississippi Republican gubernatorial candidate Robert Foster denied a female reporter access to an all-day "ride along" while he made his campaign rounds on the grounds that he couldn't be alone with a woman because it was disrespectful to his wife and clashed with his "Christian values."
In other words, a Republican gubernatorial candidate's sexist policy prohibited a female reporter from doing her job, because he can't control himself around women… question mark?
The reporter, Larrison Campbell, who writes for Mississippi Today said the paper was planning ride-alongs with each gubernatorial candidate seeking the GOP nomination. Two other candidates agreed, though Foster denied and told Campbell she could do the story if she provided her own male chaperone. Foster told the GalloShow that the other candidates got "male reporters" and he felt that if he was ever alone during the day with Ms. Campbell "it would've been an awkward situation I didn't want to put myself in."
He then doubled down on his decision and tweeted that "the liberal left lost their minds over the fact I choose not to be alone with another woman. They can't believe, that even in 2019, someone still values their relationship with their wife and upholds their Christian Faith."
CNN's New Day host John Berman tested his logic and asked if he has reservations about being alone with women because he doesn't trust them or doesn't trust himself.
"I trust myself completely, but I don't trust the perception that the world puts on people when they see things and they don't ask the questions, they don't look to find out the truth," Foster told CNN. "Perception is reality in this world, and I don't want to give anybody the opinion that I'm doing something that I should not be doing."
So Foster's afraid of being photographed with Campbell, which he believes might look inappropriate. Campbell had the best response to that angle and also told CNN: "Why does it appear improper for a man to be with a woman? I mean, why wouldn't a gay affair be construed if he were with a man? Unless, at the end of the day, what you're saying here is a woman is a sexual object first and a reporter second."
Foster doubled down on his "relationship with his wife" rhetoric and emphasized that he, like Mike Pence, refuses to be alone with another woman out of respect to his wife. That logic is insane because where does it end? Does it means he'll never interview a woman for a job? He'll never work side by side with a professional woman? Will he even hire women to work for or with him? Do men like Foster and Pence not see that as long as they exist, they are keeping women from advancing in the workplace?
At the end of the day, Campbell summed up this nightmare as sexism, plain and simple.
"Look, we got to call this what it is: when a woman isn't given access to the same things that a man would be given access to, it's sexism," she said.