7 Kids Are In A Mississippi ICU As Delta Variant Begins To Surge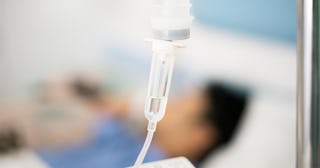 skaman306/Getty
Mississippi health officials are warning of a delta surge as children are hospitalized — and placed on ventilators — after contracting the variant
Despite free and widely available COVID-19 vaccines, the delta variant is continuing its deadly spread across the U.S. Everyone in the country 12 and older is now eligible for a vaccine, but the frightening new variant is hard-hitting for more vulnerable populations — including kids who are still too young to receive the vaccine. In Mississippi, health officials are warning that they may be seeing the start of a delta "surge," and say that kids are definitely among those getting seriously ill, despite misconceptions that children aren't affected by COVID-19.
State Health Officer Dr. Thomas Dobbs announced in a terse tweet that the state currently has seven kids in the ICU, and that two of them are on ventilators.
According to the Centers for Disease Control and Prevention, children are less likely to have serious symptoms from a COVID-19 infection, and generally, kids who get infected have just mild cases, though they've always been careful to note that kids can still spread the virus to others regardless. But doctors in Mississippi are noting that they're seeing more kids with severe cases, and they worry that the delta variant (now the dominant strain in the U.S.) is to blame.
"We have had more pediatric admissions than we had early in the pandemic," Dr. Alan Jones, associate vice chancellor for clinical affairs at the University of Mississippi Medical Center, told a local ABC affiliate.
State officials haven't announced any details about the kids who are in the ICU, like their ages, whether they had any underlying medical conditions, or whether they were eligible for a vaccine.
Disturbingly, the state's governor doesn't seem too concerned about these pediatric cases and isn't making masks a priority in schools this fall. "Governor Reeves has no intention of requiring students or staff to wear masks when they're in school this Fall," Reeves' press secretary, Bailey Martin, said in an email to WLBT this week.
The sick kids coincide with a state-wide rise of cases in Mississippi, which health experts say is due to the delta variant spreading in the state.
"We have seen pretty much an entire takeover of the delta variant for our transmission," Dobbs said during a public briefing late last week. He added that the surge has been "pretty alarming," and that while hospitals are not currently overwhelmed with COVID patients, there are "concerns about it going forward, as has been seen in other states" due to delta being the dominant strain across the country.
In the last three weeks, Mississippi's daily COVID case average has more than doubled. Hospitalizations, which often lag a few weeks behind case numbers, have increased 26.7 percent. Mississippi has the second-lowest vaccination rate in the country, with only about a third of the total population vaccinated.
"Our collective under-vaccination in the state has put us all at risk, especially the most vulnerable," Dobbs said.
This article was originally published on