GOP Candidate Says 'I Want To Come Home To Cooked Dinner' And Gets Epically Roasted
by Cassandra Stone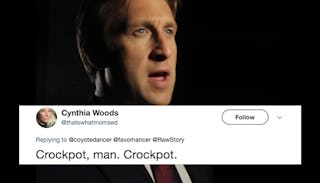 Image via YouTube/ Courtland Sykes For Senate/Twitter
Courtland Sykes also referred to today's feminists as "shrieking banshees"
Hoo boy, you're gonna want to buckle up for this one. A Republican candidate running for senator in Missouri publicly bashed women's rights in a mind-boggling official statement, and what he said about women and home-cooked dinners will make your blood boil.
Courtland Sykes (because of course his name is Courtland), took to his official Facebook page to let his potential constituents know exactly where he stands on women's rights: all the way back in the Dark Ages.
"I want to come home to a home cooked dinner every night at six," Sykes wrote about the demands he places upon the girlfriend he has somehow been able to obtain and keep around. "One that she fixes and one that I expect one day to have daughters learn to fix after they become traditional homemakers and family wives."
Ummm… excuse me?
Oh, but there's more. He referred to feminists as "career-obsessed banshees who forgo home life and children and the happiness of family to become nail-biting manophobic hell-bent feminist she devils who shriek from the top of a thousand tall buildings."
This she-devil banshee can think of a lot of ways to tell you to go fuck yourself, Courtland Sykes, but Twitter handled it with more aplomb and biting wit. The entire internet couldn't wait to tell this guy exactly how he can go about getting his precious "home-cooked meals."
LOL SHE WENT THERE. Don't bring our beloved Pearson family into this mess! (Just kidding, this joke was the equivalent of a chef's kiss.)
Just go ahead and slap it on my epitaph, tbh.
And the absolute best response goes to:
Here's hoping the people of Missouri don't vote this asshole into Congress and instead send him right where he belongs: a time warp.