Off-Duty Fireman Detains Armed Man With Body Armor At A Missouri Walmart
by Christina Marfice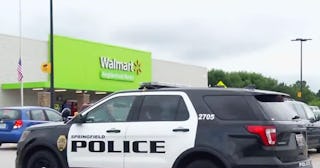 ABC World News/Twitter
An off-duty firefighter held the man at gunpoint until police arrived to the Walmart
No one was hurt at a Springfield, Missouri, Walmart, where a man was detained after showing up to the store heavily armed and wearing body armor. The man hasn't been named by police, but they've described him as white and in his 20s.
Police say the man created a panic, and that considering the situation he created, he's "lucky to be alive." No shots were fired and no one was hurt, but it's hard not to see parallels between this situation and recent shootings in Dayton, Ohio, (where the shooter also wore body armor) and in El Paso, Texas, where the shooting took place in a Walmart. Those two mass shootings happened within 13 hours of one another last weekend and killed 32 people combined, injuring dozens more.
At the Missouri Walmart, the man was seen walking around with the store with a shopping cart and filming himself talking on his phone. He was wearing military fatigues in addition to the body armor, and he was armed with a handgun, a tactical rifle, and more than 100 rounds of ammunition.
A store manager pulled a fire alarm and started yelling for people to evacuate. The off-duty firefighter was able to hold the man at gunpoint while police were called and detain him until they arrived to take over.
At this point, police don't know what his motives were, but they still have him in custody and plan to find that out. They said the video he was seen recording in the story may have been posted to Facebook Live, so they intend to scour his social media for clues. The store was also covered in cameras, so police say they'll be able to see his every step from the moment he arrived on the premises. Hopefully, there are some clues there.
It's legal to openly carry a firearm in Missouri, as long as it isn't done in a threatening manner. But police are holding the man anyway.
"We definitely have some crimes here," Springfield Police Lt. Mike Lucas told reporters, though he didn't specify what, if anything, the man has been charged with. Again, the firearms were legal as are the body armor and ammo.
"His intent was not to cause peace or comfort to anybody that was in the business. In fact, he's lucky to be alive still to be honest."
Walmart has come under fire for being and remaining America's largest firearm retailer in the wake of the El Paso shooting. The company released a statement after this incident, saying, "the behavior of a customer was concerning to those inside our store and out of caution, law enforcement was contacted."